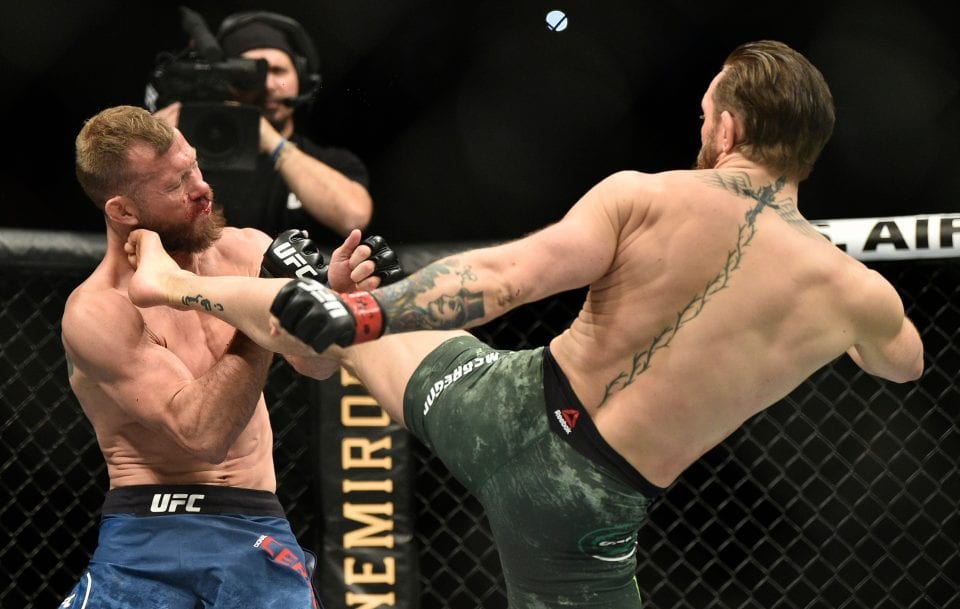 In January of 2020, Conor McGregor returned from an extended layoff to fight UFC veteran Donald Cerrone — a man who can boast 27 finishes throughout his storied career.
The fight would last just 40 seconds. After clinching in the opening seconds, McGregor landed a succession of unique shoulder strikes which visibly damaged Cerrone's nose. A neatly disguised left high kick came next, followed by a barrage of unanswered blows. And that was all she wrote. McGregor, who had clearly taken a shine to Cerrone in the pre-fight build-up, consoled his vanquished opponent on the canvas, planting a kiss on his forehead.
Cerrone hasn't won since. He returns to action this Saturday in Phoenix to take on another veteran in Joe Lauzon but while speaking to the media, he also took the time to offer up his candid thoughts about his performance in the McGregor fight — and he said that he didn't want to be in there with the Irishman.
Cowboy reveals he didn't want to be in the Octagon with McGregor back in 2020 😯 #UFC274

(via @bokamotoespn) pic.twitter.com/xkweycVTBM

— ESPN MMA (@espnmma) May 5, 2022
"On the Conor McGregor fight, the biggest eyes, millions watching, my moment, and I didn't wanna be there. I cannot answer that any clearer. It was such a strange feeling," Cerrone stated.
"When I was in the back, I didn't even wanna go out there. So when Conor gave me the door, I took it. That was my inner bitch. I took the door, let's get out of here. It's that easy. It's that easy in a fight to get out, and I took it. I have to live with that every day."
Cerrone's starkly honest comments are a refreshing change of narrative in a sport where fighters seldom admit weakness, though many will admit that the mental game is just as important as preparing oneself physically.
And whatever 'Cowboy' says, his achievements in the cage far outweigh and shortcomings — something he will look to show yet again when he faces Lauzon tomorrow night.
Comments
comments