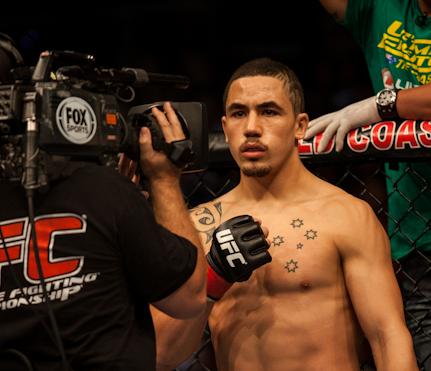 Robert Whittaker has a location and a date for his maiden UFC middleweight title defense.
Whittaker, who assumed the title following Georges St-Pierre's decision to vacate in the weeks following UFC 217 last November, will rematch #1 contender Yoel Romero for the title at UFC 225 in Chicago, as confirmed by Ariel Helwani of MMA Fighting. The UFC has not yet made the bout official but it expected confirmation will come in the very near future.
This will be the second meeting of these two top middleweight fighters. Whittaker came out on top in their initial meeting, after being awarded a unanimous decision in at UFC 213 to win the then-interim title — which later become the undisputed championship.
Whittaker has been on the shelf for an extended spell since being made the champion, owing to a serious infection as a result of staph. His inability to defend the title led to the UFC arranging another interim title bout, this time between Romero and Luke Rockhold and it was the Cuban Olympic wrestler who came out on top, knocking Rockhold out late in the third. Romero missed weight on the eve of the bout which meant that he was ineligible to win the interim title.
UFC 225 takes place in the United Center in Chicago, Illinois on June 9th and is also likely to feature the return to the UFC of former WWE star C.M. Punk.
Comments
comments