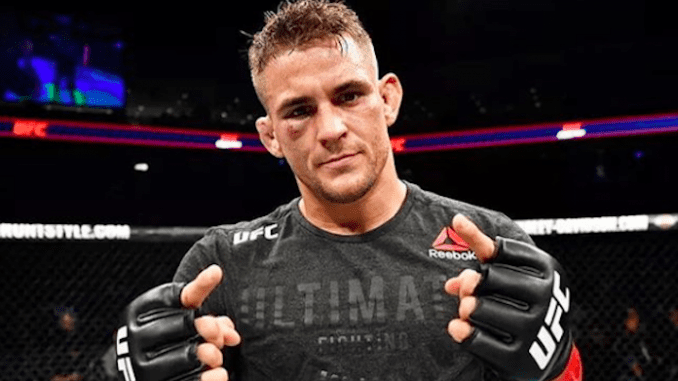 Since a September 2014 defeat to Conor McGregor at featherweight (as well as flash knockout defeat to Michael Johnson) Dustin Poirier has been on a tear through the UFC's 155-pound division.
His last three fights have seen him earn finishes against three former world champions in Eddie Alvarez, Justin Gaethje and Anthony Pettis but with the lightweight title picture looking murky at present owing to Khabib Nurmagomedov's suspension and unwillingness to fight before November of this year, it has left Poirier plotting his next move — and he doesn't appear happy.
In a series of tweets in which he addressed his future Poirier, ranked number three in the division, said he would only consider a fight if it was against one of the two contenders above him (Conor McGregor and Tony Ferguson), or if the UFC were to grant him a much-improved contract.
It's gotta be Tony or Conor or we redo my contract. Otherwise I'm not fighting. This company is #1 bullshit

— The Diamond (@DustinPoirier) January 30, 2019
At this point if you dont respect the body of work I put in. I don't respect you.

— The Diamond (@DustinPoirier) January 30, 2019
With all do respect to him and his team the answer is no. Unless we make a different deal with the UFC https://t.co/RB7suYN4Kh

— The Diamond (@DustinPoirier) January 30, 2019
Poirier, who has been one of the UFC's best performers and most improved fighters across the last couple of years, made around $170,000 for his fight against Gaethje. While that clearly isn't a pittance, it must be noted that the UFC have seen enough in his recent performances to place him in the main event for his three most recent bouts.
Comments
comments