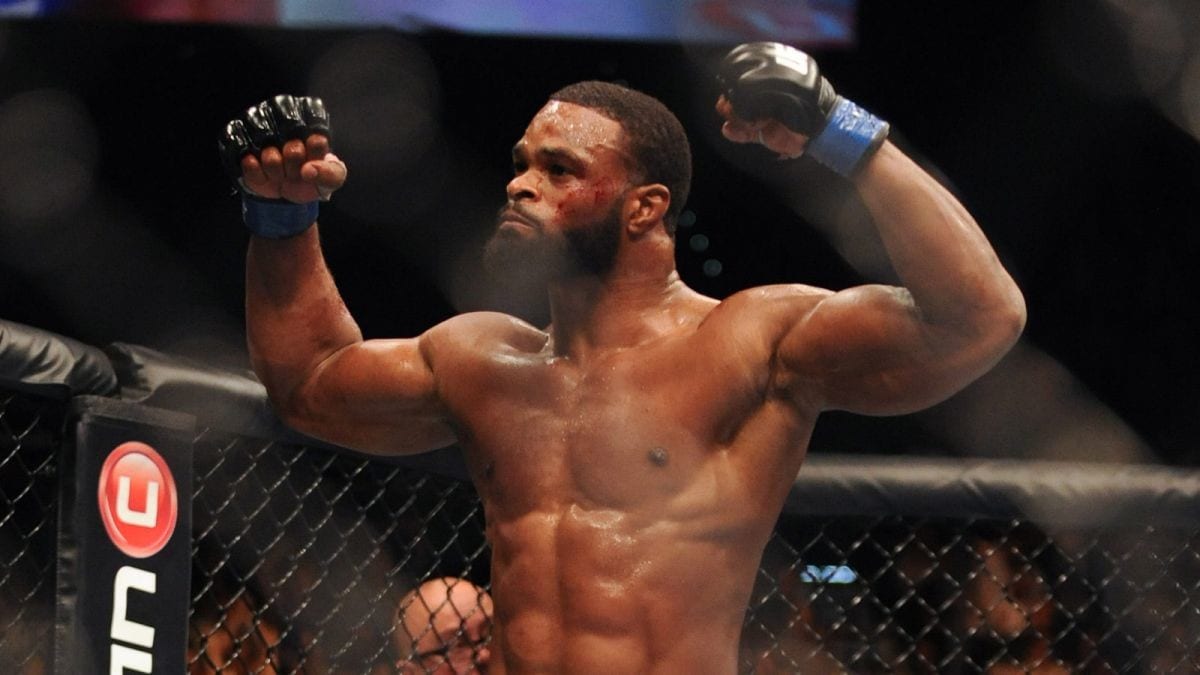 On Monday's edition of The MMA Hour, UFC welterweight champion Tyron Woodley let rip with a stunning tirade against Dana White and the UFC for the perceived lack of respect shown to him in the fallout of (and likely long before) his unanimous decision victory against Demian Maia last Saturday.
Woodley defended his 170-pound title with releative ease against Maia, essentially shutting down the Brazilian's submission game by fighting off all 24 of Maia's takedowns while peppering him with strikes of his own. In the aftermath of a fight which didn't prove terribly popular with the near-17,000 fans packed into the Honda Center in Anaheim, Dana White was critical of Woodley's performance.
White said to the media post-fight that Woodley could have finished the fight in the first or second round if it wasn't for his conservative gameplan and, as if to rub salt in Woodley's wounds, said that Woodley wouldn't face the returning Georges St-Pierre in his next bout — as had been promised to him just days before if he won. Woodley noted after the bout that he suffered a torn labrum (an issue with the connective tissue surrounding the shoulder joint) in the first round which considerably hindered his striking.
White's statement didn't go down well with his welterweight champion.
"I don't care so much about the fans, but when your job title is promoter — promote your fucking fighters," Woodley said, speaking on MMAFighting's The MMA Hour. "Promote your champion. Don't demote your champion. I threw my shoulder out in the first round, I wasn't able to throw any damaging shots — for you guys who don't understand what a labrum tear is, go get on Google or Wikipedia and figure it out — and I still stayed the course, I stayed on path, I stayed on point, I executed the game plan. I had to reduce all of my shots from overhands, uppercuts, things that were hurting my shoulder, to straight punches."
"I'm owed a public apology. You're going to publicly scrutinise me, Dana White? You publicly need to apologise to me.
"I've done nothing but good stuff for the sport. I've done nothing but be a good model for the fucking organisation. I go out there and I fight with integrity. I covered your sport from the FOX desk a week before my fight. I always uphold my responsibilities to the organisation. It's timeout for that. The word behind 'business' is 'man.' You need to be a man, you owe me a public apology. And if I don't get that, I'm going to start leaking some shit that people don't want to be out in the wind. I'm not even kidding about that."
Woodley also noted that he suffered a torn labrum (an issue with the connective tissue surrounding the shoulder joint) in the first round which considerably hindered his striking.
What exactly Woodley is referring to there is open for debate but one member of the UFC roster (and his teammate at American Top Team) hasn't taken kindly to Woodley's threat, as reported by Bloody Elbow.
Colby Covington, who has gone 7-1 in the UFC welterweight division in which Woodley is the champion of, wrote on Twitter that he has "serious dirt" on the champ and will leak that if Woodley makes good on his threat.
Don't worry boss @danawhite I know some serious dirt on @TWooodley that would ruin his life. #fake https://t.co/MK9SdXRgge

— Colby Covington (@ColbyCovMMA) August 1, 2017
Since when did the UFC's welterweight division turn into the Trump administration? Where will this go from here? Your guess is as good as ours.
Comments
comments