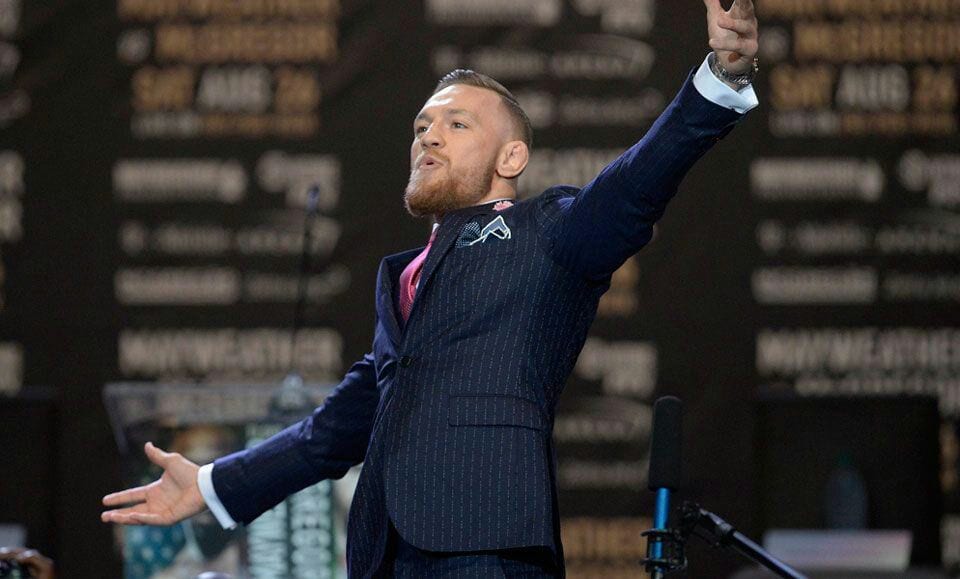 When you look at the Mayweather/McGregor press conferences, some could argue that they were the most entertaining and vivacious press conferences in history, writes Olivia Hayes.
From the crowds that rolled out into the four cities, to the exuberant style that was on show, it was certainly one for the history books.
And that's exactly what we're going to talk about here; how Conor's style compares to some of the fighting greats throughout history.

Joe Fraizer vs. Muhammad Ali
Ever think Conor's Gucci mink coat at the UFC205 press conference looked familiar? That's because Joe Fraizer wore a very similar outfit during his press conference with Muhammad Ali in 1974.
Fraizer rocked up to Madison Square Garden wearing a white fur coat, red polo neck and grey check trousers. Nobody had ever seen style like that in combat sports, however, fast forward 41 years later to UFC205 and Conor takes the outfit up a notch. In a setting where most fighters turn up in tracksuits and t-shirts, McGregor wore a bespoke white Gucci mink coat and a cotton red polo neck to pay tribute to Smokin' Joe.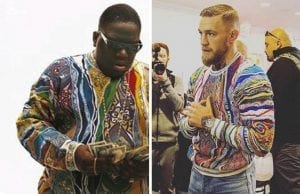 But Fraizer wasn't the only legend that Conor paid tribute to while in New York that week. During UFC205 media days, the MMA fighter took a cue from some other historic greats. Remember Conor's colourful jumper? A knowing nod to the Notorious B.IG.
Tyson vs. Lewis
Moving onto what was one of the most shocking boxing press conferences in history, Tyson vs. Lewis saw a lot of drama. And while the crowds flooded NYC's Hudson Theatre for entertainment, we want to take a moment to talk about the style (or lack thereof).
Tyson turned up wearing a black ribbed shirt matched with velvet black trousers. And while we're giving him style points for going outside of the box, many couldn't help but note that he looked a bit like a bouncer.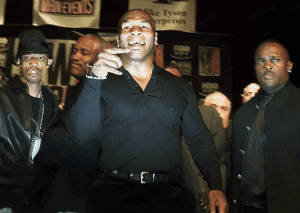 It may have been a slick look for Tyson to pull off, but we don't think he compares to Conor here. As McGregor has shown in the past, nobody can pull off his unique style, and now he even has a clothing line to prove it.
Mayweather vs. Pacquiao
One last press conference we're going to compare is Floyd Mayweather and Manny Pacquiao's. Just as boring as the actual presser was, the style didn't live up to much. Both men wore drab, ill-fitting suits, and neither boxer brought anything to the style section.
We know it's all about the fight, but bring a little bit of class to the stage, right? Mayweather's only saving grace is that he wore a diamond Gucci belt… but, we think we can all agree as to who pulls off Gucci better.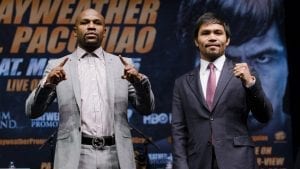 With 'August McGregor' now on the market, and the 'fuck you' suit flying out with orders, not only does Conor bring some class fighting to the table, but class style too. The quirky, brass and sharp clothes make Conor stand out more than his words and actions
sometimes, and nobody can beat that.
Words by Olivia Hayes
Comments
comments