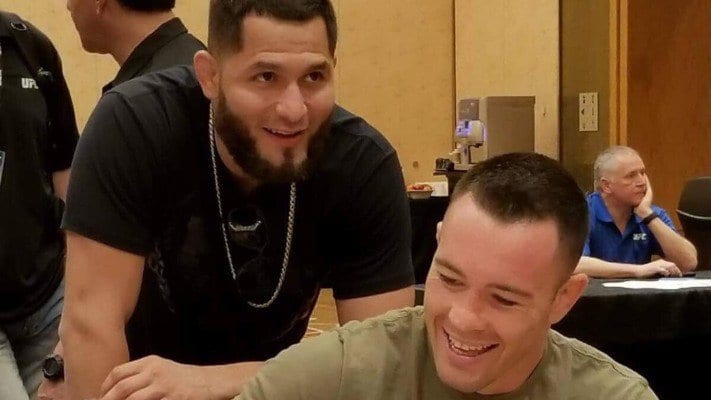 Now that Colby Covington has left American Top Team, he can admit it wasn't the most comfortable place for him to train since he introduced his trash-talking shtick to the world.
The welterweight announced he'd left the gym last week after longtime friend and coach Dan Lambert introduced a rule that demanded no insults between members unless a fight had been booked. With Covington having already established bitter rivalries with Jorge Masvidal, Dustin Poirier and Joanna Jedrzejczyk, that seemed to be closing the stable door after the horse had bolted.
Especially, Covington says, since things were already in bad shape by then.
"To be honest, guys, it started back in Brazil two years ago when I told Brazil they were filthy animals and the place is a dump. Because it's the truth, the place is a dump, and all those people are filthy animals," Covington said, speaking to Submission Radio. "And they were acting like filthy animals when they were saying I was gonna die, 'you will die, oh, I fucked your mother this and that', saying these vulgar things to my family. So, when I dished it to them, they can dish it but they can't take it.
"That's what really started to disrupt the relationship. I could see how much pressure Dan Lambert was under, and he didn't like it. He didn't like when all the Brazilians were coming up to him complaining, trying to get me kicked off the team. So, he felt what the hot seat was like then. But then as things started to progress, and you got journeyman Judas Masvidal trying to call me out, you got Dustin trying to say things in the media, you got Joanna trying to say things in the media, and eventually it just became too much for him. And I could just tell in his text messages and his calls that it was a lot of pressure, and I didn't want to put him under that pressure, man."
Covington says his days at the gym started becoming filled with issues as arguments and altercations began taking place during his training sessions.
"To be honest, the last year, going in there, every time I would go in there it's just negative energy and it's such a toxic environment," Covington said. "I felt drained. It took all my energy, it took everything. Like, I couldn't get good training. Dude, Jorge would come, I'd be boxing, he'd come scream from the other side of the cage trying to interrupt my training multiple times, probably five or ten times. I'm just like, man, I don't need this anymore, dude. I don't need this drama in my life. If these guys want to fight, let's go do it in the octagon. Or if you want to fight and you're really that tough, let's go see each other in the streets. But you know, that's a whole other subject."
Comments
comments