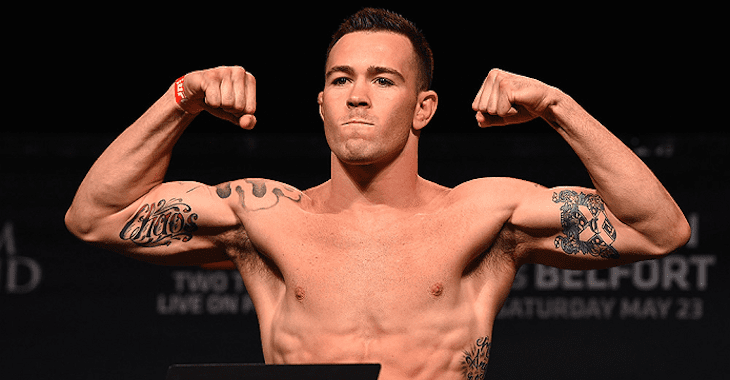 Colby Covington is a man known for flinging accusations, and ahead of their fight this Saturday, he's treating Robbie Lawler no different.
For years, Lawler has been something of a fighter's fighter, meaning few — if any — have launched verbal barbs at him before a contest. Indeed even Ben Askren, one of the UFC's newest and best trash talkers, shared his disappointment in fighting Lawler, because there was nothing you could point to and make fun of.
Covington disagrees.
Lawler and he used to train together at American Top Team in Florida, before Lawler eventually split from the team and they went their separate ways. According to Covington, that split was down to him, and it's time the public realised there is more to Robbie Lawler than the media are able to report on.
"I've seen that guy leave the gym crying because I beat his ass so bad," Covington said, speaking with Submission Radio. "So, there's definitely more to Robbie Lawler. Of course, for the media he puts on an act, he puts on this robotic look and he wants, that's what his image he wants to be, is 'oh, I just leave my business in the cage,' and that's just so stupid. He's all about that respect and all that bullshit. You know, that doesn't sell fights and there's definitely more to Robbie. I've seen it behind scenes at American Top Team. He's yelled at coaches, he's screamed, he's had temper tantrums in the gym if he wasn't having a good day at training. So, I think he just wants this image, he just wants to be looked like he handles his business in the cage, but really, deep down inside he has feelings just like these other fighters.
"He didn't like the way this up and coming kid that nobody knew who he was, was completely mauling him, just taking him down and just beating him up. You know, he was getting ready to win the title against Johny Hendricks and he brought me in as a southpaw wrestler, and he was just mad that he wasn't getting the better (of me). But we were going with big gloves, and I remember his coach afterwards, his coach Kami – who's actually, he'll be in his corner, that's his head coach – would tell me, he's like, 'oh, Colby, you know that wouldn't happen if there was little gloves on'. I was like, 'oh yeah, you think so? He was like, 'I guarantee it. If you get in that octagon with Robbie Lawler, you will be knocked unconscious'. So, I never forgot about that since the day he told me that. That's what gets me so excited, man. There's so much backstory here that people don't know. But I know it. I keep it close to my heart and I'm gonna make him pay for it on August 3rd."
But while Covington's accusations that he made Lawler leave the gym in a huff are somewhat standard, he's willing to go to places about the former welterweight champion that few others have been.
A few years ago, when Lawler was still in Strikeforce, he was struggling to make waves as a middleweight with a record of 19-9-1. In 2013, he was brought back to the UFC, dropped down to welterweight and went on a run that saw him win the title, be involved in multiple epic five round wars, and end up where he is today at 28-13-1.
Covington believes it odd that a man can find such a resurgence towards the latter stage of his career, particularly physically.
"I think in his last fight, when he fought Ben Asscream and he left him for dead and he knocked him out in his first round, he looked physically better than he's looked in his whole entire career," Covington said. "So, I don't want to point to science or other things, but you would think at that age he wouldn't look as good as he looks. So, I'm prepared for the best Ruthless Robbie Lawler and I'm gonna prove August 3rd that I'm the best welterweight of all time when I beat Robbie and leave him in a pool of his own blood.
"I mean, I trained with the guy in his prime, in his early 30's, and you're gonna tell me in his late 30's he looks better than he's ever looked his whole entire career? And this is after he's taken the most significant strikes in UFC history. This is after all the wars he's put his body through. And then just all of a sudden he's just on some super potion and he just looks better than ever? You know, let's be honest guys, it doesn't make sense. I don't want to say what you guys know you want me to say. I'm not gonna say it, I'm gonna let the people speak for it.
"I'm gonna let the people be the judge of that. But I mean, let's be honest guys, you don't just in your late 30's all of a sudden just have a fountain of youth and you're just stronger and better than you've ever been in your whole entire career. You know, I'm prepared for the best Robbie Lawler and I'm gonna see the best Robbie Lawler August 3rd. I'm excited. I'm rising up to the challenge."
Comments
comments