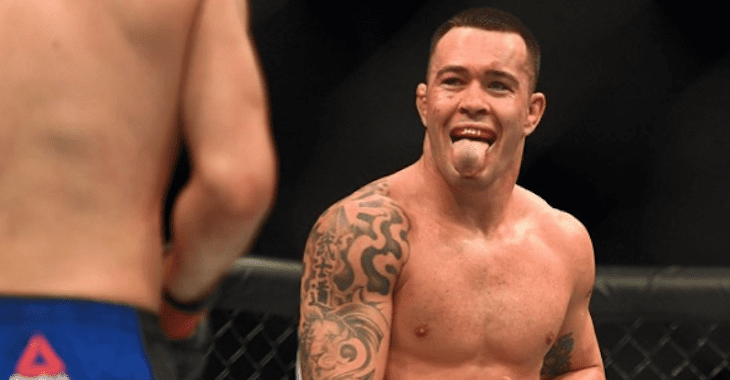 It is good to see that Colby Covington continues to ingratiate himself into the hearts of everyone he meets.
The controversial welterweight, who meets Rafael Dos Anjos to determine the division's next interim champion next weekend at UFC 225, has started to engage in a feud with UFC commentator Joe Rogan.
The whole thing stems from comments made by Rogan on his The Joe Rogan Experience podcast in which Rogan suggested that Covington refrain from some incendiary comments about former light heavyweight champion Jon Jones who, as Rogan explained, could likely kill Covington with his "bare hands" — comments which made Covington say that he was going to "slap" the commentator when they next cross paths.
Rogan addressed the issue on a subsequent podcast, saying with a smile: "Colby Covington don't slap me. You said you were going to slap me, but don't slap me. I was talking shit. I was telling him that Jon Jones might slap him. So he said 'I might slap you'. Listen, I like Colby. I like what he is doing. But he is talking a lot of shit, and I'm just saying be careful who you talk shit to. Talking shit to Jon Jones? That's one of the baddest mother f*ckers who has ever lived."
Now, speaking to BJPenn.com, Covington doesn't appear satisfied to let the beef subside.
"His little mouth was trying to run and say things when he shouldn't have an opinion," Covington said on the show. "You've never been in an Octagon, you don't have any experience fighting. Just 'cause you do these little Tae Kwan Do tournaments and you can't even get first place in those, doesn't mean you can come talk to the King of Chaos, AKA the new welterweight king on June 9th.
"[The issue will] be squashed when he stops running his little mouth like his opinion matters," Covington continued. "His opinion is irrelevant. He thinks he has a say in everything and he's a biased announcer as it is."
Comments
comments