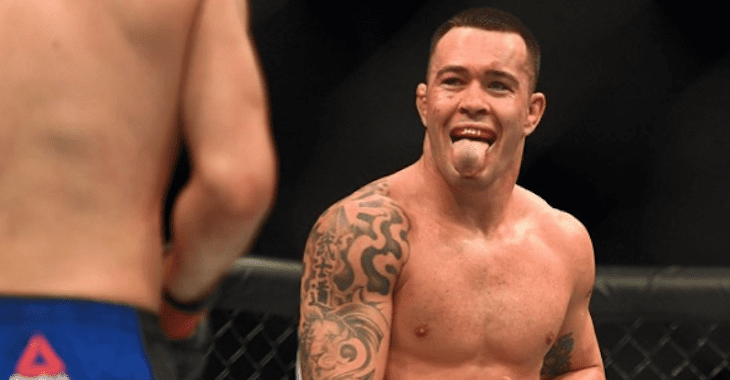 If you thought public scrutiny would change his mind, Colby Covington wants to tell you: he isn't embarrassed about pressing charges against Fabricio Werdum. In fact, Covington says, he's standing up for his right to free speech. 
As you've likely heard by now, Covington and Werdum were in downtown Sydney last week when the two engaged in an altercation that turned physical. While the story depends on which man you believe, Werdum was filmed throwing a boomerang at Covington, while a second recording showed Covington using a homophobic slur towards the Brazilian.
However, no matter which way you're looking at the incident, Covington will not be shamed after a number of fans and pundits reacted poorly to the revelation he was pressing charges against the former UFC heavyweight champion.
"I knew nothing about Werdum," Covington said, speaking on Monday's The MMA Hour. "His claims are completely lies. I said nothing to him. I didn't even see him before he hit me in the face. He's out here saying, 'Colby was calling me a filthy animal.' No, I said those comments three weeks ago. Those comments are old. You can't come up and attack someone because of free speech. It's not OK to condone violence because of free speech.
"Where's the equality at? All the people that are saying, 'Oh, he's a snitch, he went to the cops.' Yeah, you know," he continued. "You're condoning violence because of free speech. You know what that's called, [MMA Hour host] Ariel [Helwani]? That's called fascism. You know who else believed in fascism? Adolf Hitler and the Nazis. It's not ok, Ariel. There will be justice served."
Now, Werdum is scheduled to be back in court (in Sydney) next month. It's likely the existing video of the two will be brought into question, which raises the incident of Covington's homophobic language. According to the welterweight, it was actually Werdum who was using the language first, and that Covington was simply left reeling from an alleged punch and that's why he ended up using the slur.
"At that point, my head was all messed up," Covington said. "I regret anything that I said, because I was a little concussed, man. He hit me in the face. Like, he's calling me these anti-gay slur remarks a bunch of times. He's saying I'm gonna kill you, this and that. My head is spinning, I just wanted to get that out there for evidence.
"I have no ill effect towards the LGBTQ community. I actually support them. I have friends that are gay. It's no disrespect to them. … Fabricio Werdum, you messed up, dude. You messed with Oregon's biggest bad guy and you went about it the wrong way, man. There's a way to go about your business. You can't come in and invade people's personal space because of free speech. Now you're in the hands of the Australian police and I'm onto bigger things: Tyron Woodley."
—
Comments
comments