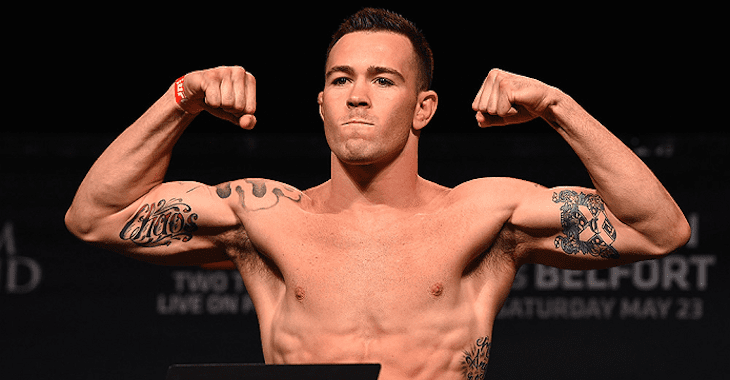 Colby Covington continues to push his trash talk to new levels as his title fight with Kamaru Usman appears to be confirmed.
Covington stunned fans with a tremendous performance against Robbie Lawler last Saturday in Newark, before raising eyebrows with a post-fight reference to UFC legend Matt Hughes' train collision immediately after. Now, as Covington's doing the rounds with media on a victory lap, he's started returning his focus at champion Usman once again.
And, with UFC president Dana White apparently confirming he's next in line for a title shot, Covington's not holding back.
"The guy's a piece of shit. I've just heard from so many people how he's so fake and he just acts like he's some superstar and he acts like he's better than people," Covington said about Usman, speaking on Submission Radio. "He has no personality. Literally, Tyron Woodley had more charisma than him. Like, that's sad. Tyron Woodley has zero charisma, so you know that's in the negatives for Marty Fakenewsman. So, the guy's a piece of shit. I mean, he was ducking me so long that Glenn Robinson [who] was his manager, that Glenn Robinson died from it because he was ducking me so hard and wouldn't fight me."
Covington and Usman are likely to meet on November 2 at Madison Square Garden, where Usman's welterweight title will be up for grabs. Even prior to Covington's jibe about Robinson, who passed away last year, Usman and his rivalry was reaching rarified heights, with the two engaging in a physical altercation (along with Usman's manager Ali Abdelaziz) at the Palm's Casino in Las Vegas in April.
Despite Covington's continued button pressing, however, he's found himself a following not just amongst MMA fans, but also the mainstream media, having had U.S. president Donald Trump's sons in attendance at his fight last week, before receiving a congratulatory phone call from the president himself.
Not that the phone call contained much talk about Usman, Covington says.
"You think the president knows who the hell fucking Marty Fakenewsman is?" Covington said. "The guy's a nobody, he's irrelevant. I was saying, what has Marty Fakenewsman ever did? I got a call from the president of the United States, I had the first family front row. The only calls that Marty Fakenewsman ever got was smoke signals from his chief tribe person of Nigeria."
Following his win over Lawler, Covington and Usman both took part on an ESPN post-fight desk show, (surrounded by security). Naturally, the pair's animosity continued, with both shouting accusations at the other of faking injuries and similar. While the encounter could be disregarded as general bravado, in Covington's eyes, Usman did reveal something.
"Oh, it was funny, I can see he's a coward and I can already see that he's doubting himself. I could feel the energy," Covington said. "So, he knows what's coming now, he knows what's in front of him now. So, let's see if the man shows up. I don't think he's gonna show up. And that's okay, business moves on as usual. I'm gonna defend this belt. This is the most prestigious belt in sports – America's belt, the people's belt. Donald Trump's favourite fighter. I got the first family coming to the next fight. You might see the president of the United States, the most powerful person in the world at my next fight. What I do is history. Record-breaking performances every time. Most significant strikes ever thrown in a UFC fight in that fight. I'm unbeatable, I'm unstoppable. You can't stop this train. And people want to get mad about the Matt Hughes thing? What did I say that's a lie? Where's the lie? There is no lie in that. And he even got it. So, if he gets it and no one else gets it, then that's their problem. They're snowflakes."
UFC 244 takes place on November 2 in Madison Square Garden. While Usman vs. Covington isn't official, it's almost certain to be one of the headlining bouts.
Comments
comments