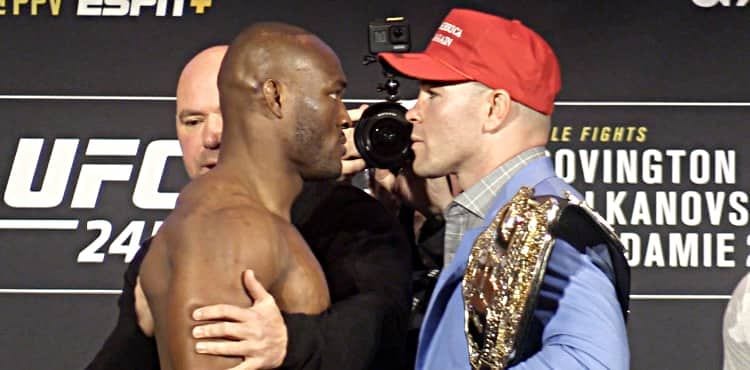 Colby Covington is going to considerably test the theory of absence making the heart grow fonder, after the brash welterweight title challenger was issued with a six month medical suspension by the Nevada State Athletic Commission in the wake of UFC 245 world title defeat to Kamaru Usman last weekend. 
At the end of the third round inside the T-Mobile Arena in Las Vegas, Covington could be heard on the broadcast telling his corner that he suspected that he had suffered a broken jaw (likely courtesy of a concussive right hand thrown at him). Despite the injury, Covington continued until close to the fight's conclusion where he was stopped by strikes with 50 seconds left in the final frame.
Immediately following the fight, Covington was taken to a nearby medical facility where it was determined that he had suffered a "nondisplaced midline mandibular fracture" and, in information distributed by the Nevada State Athletic Commission early on Monday, it looks as though it will keep him from the cage for a considerable period.
His injury must be cleared by a specialist before he can compete again or he will be prohibited from competing until June 12 of next year. He has also been ruled out of contact training and sparring until February 13, though the jaw injury essentially makes this a moot point.
Covington's opponent, Kamaru Usman, must also take similar action regarding an injury he suffered to his left thumb in the fight and must have it medically cleared by an orthopedic doctor or he too could be out of action until June.
Meanwhile, new UFC featherweight champion Alexander Volkanovski is also looking at a potential six month medical suspension after injuring his hand in his victory against Max Holloway. He took must be cleared by an orthopedic doctor in lieu of a suspension until June.
Comments
comments