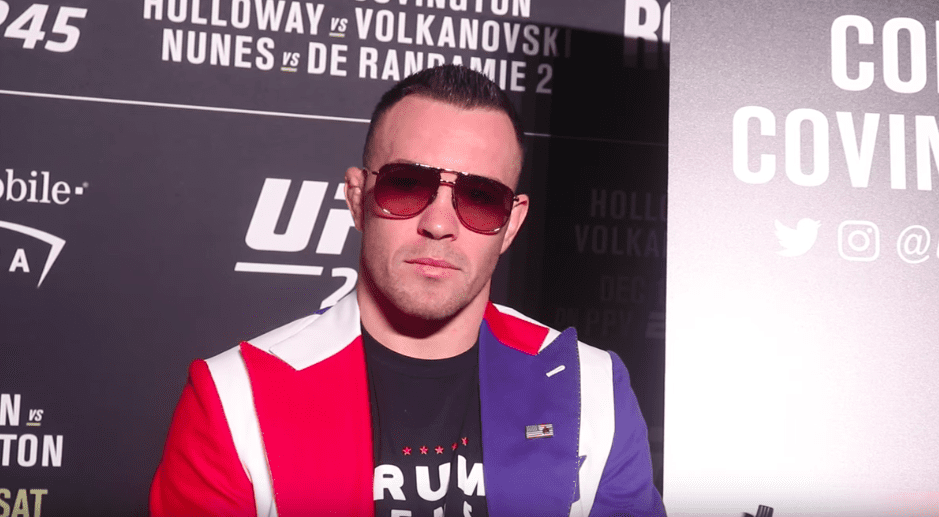 Colby Covington had anticipated waking up this week with the undisputed welterweight title resting proudly nearby but with those plans well and truly derailed, the brash fighter must now gauge a renewed approach back to title contention.
And, as Dana White sees it, a bout with the former champion Tyron Woodley makes sense for both men. Of course, any immediate plans to do so will be waylaid by the broken jaw suffered by Covington in the third round of his TKO defeat to Kamaru Usman at the weekend, but White said that he remains in the plans for the 170-pound title picture once he returns.
"I'd love to do him and [Tyron] Woodley next," White said post-fight in the T-Mobile Arena late on Saturday. "That would be a fun fight, but if he has a broken jaw, he ain't going to be around for a minute.
"After a war like this, he's going to have to go rest, take care of himself for a while and then we'll see what he wants to do."
A potential match-up between the two would rekindle the brewing rivalry stoked by Covington as he ascended the welterweight ladder while Woodley was still the champion, as well as placing the winner back into the rarified air at the top of the divisional rankings.
This insight into White's thinking would come as something of a blow to England's Leon Edwards, owner of an eight-fight win streak in the talent rich division, who has been vocally campaigning for a fight with Woodley in recent weeks but so far has been unable to tempt the former champ — or any of the division's top contenders — into a fight.
It seems fair to assume that Covington's notoriety may well translate better than Edwards' winning streak when it comes to the cold, hard facts of selling and promoting a fight card but the American's repeated criticisms of Dana White have led to some suggesting that he will be ushered down the title ladder at the earliest opportunity.
Not so, says White.
"Listen, I've dealt with his type a million times in the last 20 years," White said. "You can tell he's not happy that tonight did not go as he planned. He came out with a game plan, whatever the hell he had going on in his mind that he was going to do or whatever was going to happen and Usman stomped all over that.
"We'll let this kid go back, heal up and figure out what's next."
Comments
comments