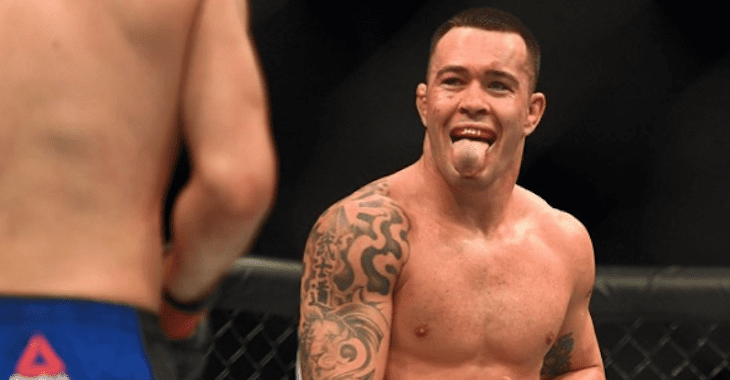 According to Colby Covington, Kamaru Usman's manager Ali Abdelaziz threatened to "track him down and shoot him" after the pair of them engaged in an altercation that turned physical after UFC 235 this weekend.
New welterweight champion Kamaru Usman and Abdelaziz bumped into Covington at the Palms Casino in Las Vegas, where the three began shouting at each other. In a video captured by a member of the public, Usman is seen holding Abdelaziz back, while the manager attempts to reach Covington and hit him.
Today, Covington expanded on the fray, appearing on Ariel Helwani's MMA Show and offering his side of proceedings.
"I was staying over at the dump, the Palms and I'm waiting in the buffet line," Covington said. "I'm just trying to get some crab legs. Can't the man get some crab legs? Can the man, the champ, get some crab legs in peace? All of a sudden low-energy Marty comes, that terrorist rat Ali comes and some other Sasquatch and they start pushing and swinging and start putting innocent kids' lives in danger and a pregnant lady.
"There's a pregnant lady, and she's screaming, 'I'm pregnant, stop this!' Ali is still pushing, trying to make a scene. Usman is still trying to scream at me, 'I'm going to get you!' And his Sasquatch is trying to throw punches at my friend and trying to punch me. It's a complete joke. I can't believe that they allow that in Vegas and just a bunch of filthy animals."
Then, Covington alleges Abdelaziz went further, threatening to find Covington and kill him.
"That terrorist rat should get deported back to whatever country he snitched on," Covington said. "He shouldn't even be allowed in this country for all the shit he does. He's over there trying to take swings at professional fighters. You know what else he told me? He told me he was going to track me down and shoot me and kill me. He said that to me. I swear to God on my life. I have witnesses that heard him say that.
"Ali tried to swing at me, but I've got cat-like reflexes, so obviously he's not going to hit me. He's slow as a fucking turtle. I heard that no one got in trouble. I heard that the Fertittas own the Palms, so I think they gave that terrorist rat a pass and they didn't want to hurt Marty Usman's chance of deporting him back to Nigeria before he get his ass-whooping from me."
–
Comments
comments