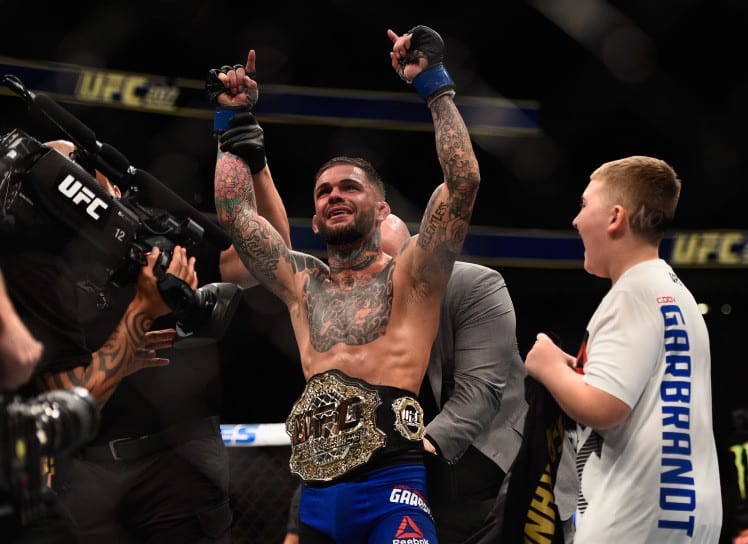 Cody Garbrandt and T.J. Dillashaw's training history has come under plenty of scrutiny over the past few months. 
Ever since the two became scheduled to fight each other, much got made of the duos history in the gym, with Garbrandt and other members of Team Alpha Male claiming they had footage of Garbrandt knocking Dillashaw unconscious.
Indeed, Garbrandt now looks back at those early training days he experienced with the then UFC bantamweight champion as moments he gained confidence in his chosen profession.
"I'm supremely confident against TJ. He's actually given me the most confidence I've had in my career to really push forward and give it all I had," Garbrandt said, speaking to MMAWeekly.com. "When he was world champion, I was 1-0 and working my way up. I was training with him [thinking] this guy's the world champion? I know I'm going to be a world champion.
"He gave me the supreme confidence to know that if I just stick to the course that I'm at, training and being a good person, that I'm going to make it happen and here I am, 26 years old now, world champion."
And naturally, it's because of those sessions that Garbrandt feels he got the edge in that he's fully confident going into UFC 217 in a couple of weeks.
"I don't feel TJ's any more of a threat," Garbrandt said. "I know him, I've trained with him, I've beat him up in practice. I know that's practice, but with a guy like TJ, he doesn't like to lose an inch, a round, a submission, anything. So I know it was full-on fighting. So I'm supremely confident going in there November 4.
"I'm better than him everywhere and I guarantee it — he doesn't have a strong chin. He will not be able to take a strike, a blow from me with four-ounce gloves on. He wasn't able to do it with a 16-ounce glove and he won't be able to do it in a four-ounce glove. So if TJ makes it all five rounds, goes the distance, that's a win for him.
"I honestly think where I [said I would hit] [Takeya] Mizugaki with the first hard punch, he'll go out. The first hard punch I land on TJ, he'll go to sleep. He'll go to sleep and I'll rain down punches on him."
Comments
comments