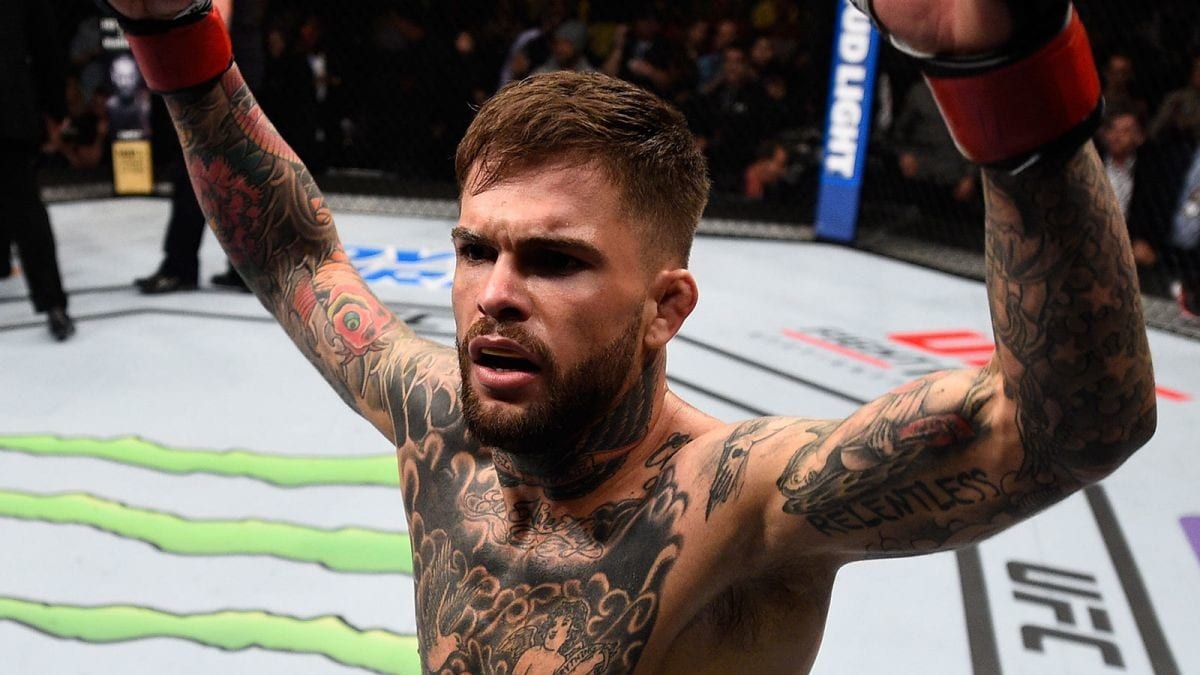 Martial arts is a weird community. From elite level coaches to fraudulent hacks to movie stars with a history of training, there is a plethora of people who are willing to share their knowledge (or lack thereof) on what men and women can do to fight others. 
And one day at the Alpha Male gym, film star and kickboxing icon Jean-Claude Van Damme to impart some of his own pearls of wisdom. For former UFC bantamweight champion Cody Garbrandt, it was an opportunity to work with a legend and maybe pick up a new trick. Instead it nearly turned into a brawl.
"he was like 'I want to show you this kick.'," Garbrandt said on the Mike Swick podcast (H/T BloodyElbow). "It was kind of a variation on the teep and you twist it at the end. So I do it like three or four times on him. I put it down and then got in this fight stance and I saw in his eyes like 'You wanna go?' And I was back against the cage. So he started playing with me, acting like he was going to throw some kicks, and he started throwing hands like slapping at me.
"I was like 'What the hell?' Then he fucking kicked me with that hook kick right in the teeth and I was like 'motherfucker.' I was pissed, I was so mad. I looked over at Rob, then I looked over at Jean and I was like 'Rob, keep this motherfucker away from me.' He kicked me in my teeth, dude. He kicked me in my teeth just playing around. Like how many times have we punched at each other and we can pull our punches? This dude just straight kicked me in my teeth. I'm not going to lie, he has some fast ass kicks, but I was demonstrating the kick he showed me to get it right. Then I put my foot down and he kicked me right in the teeth. I went black.
"I was like 'I'm going to rip his head off, but it's Jean-Claude what are you supposed to do?' All of a sudden he looks at me, drops to his knees and starts crying and is like "My champion!" and starts crying like that, so I felt hella awkward. Hands on my hips, I'm mad, my lip is all busted open and I got that hot sweat, so I just looked at him and I'm like 'Jean…' – I kept calling him Jean, I didn't know it was Jean-Claude – so I walked out of the Octagon, just leave the place, left the gym. It was fucked up; everyone was watching, taking videos, so from the outside it looked like I hit him and he was crying.
"I'm driving home and Urijah is like laughing about it, he thought it was the funniest shit ever because Urijah was in the cage, Chris was in the cage. He's like, 'Dude, that was the most awkward thing ever. You flipped out on him and he just dropped down to his knees and started crying. We didn't know what to do.'"
Comments
comments