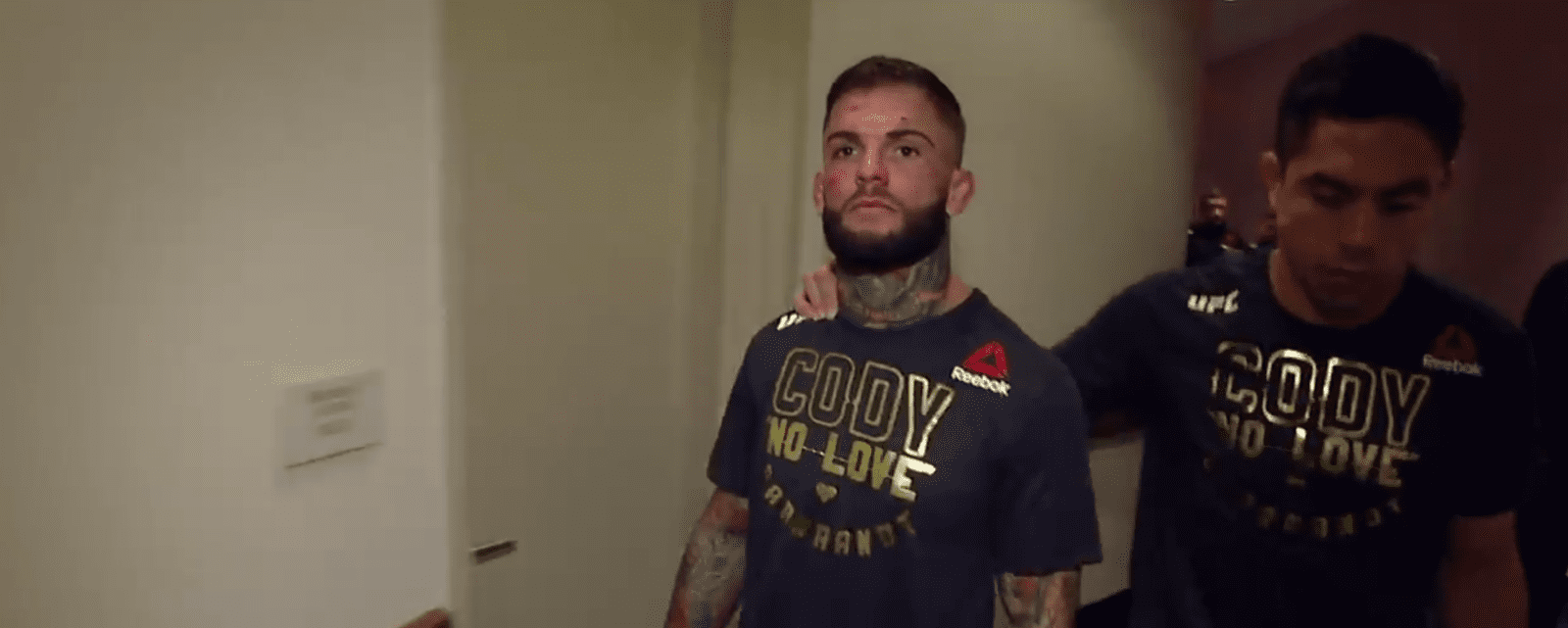 When Cody Garbrandt got up from the canvas at UFC 217 no longer the champion, he told himself to stay focused on how he was feeling. As he walked through the back receiving commiserations, he made sure to stay in the moment. He wouldn't let himself  forget — because he had to remember how bad it felt.
Now, as he prepares for a rematch against his old rival TJ Dillashaw, Garbrandt is using the memory of his career low to fuel himself in training and propel himself back to becoming the UFC bantamweight champion.
"I was walking out of the Octagon, I remember saying, 'I'm going to remember everything about this,'" Garbrandt said, speaking on MMAFighting's The MMA Hour. "Everything about this walk back, without my belt. T.J. getting in my face after I was knocked out. I know damn well that dude would never, ever do that if there wasn't that referee in there. Never, ever.
"He's a coward. That's it. He wanted to act like that, he's not a real champion. Getting in my face like that, flexing on my coaches, I'm going to remember all that and that's what motivates me in training. So I'm going to get that one back for everybody."
It's not an interesting anecdote either. Just moments after he left the cage, the UFC filmed Garbrandt telling his own coaches the exact same thing.
Come fight now, however, Garbrandt believes he'll be able to wipe UFC 217's memory away. And after seeing Dillashaw at a recent press conference in New York, the now challenger believes he's more sure of who he is as a person than the champion. All which adds up to being a better fighter, he says.
"I'm excited to be able to run it back," Garbrandt said. "Definitely wipe that smile off of his face. We did the press conference, he looked like he brushed up on his shit talking. That's why I said to him after, 'Hey man, looks like you worked on your shit talking.' He's like, 'It's business, man.' He wouldn't even look at me, he's such a coward.
"'It's a business.' I understand it's a business and you're the champ, you get the pay-per-view sales. Look, I'm focused on coming back for what's mine and taking that title off of him. So if you want to have this drawn out back-and-forth, Twitter, media wars, it's cool man, I'm not focused on that, I'm focused on myself. He's like, 'It's business,' and then he asks me how my kid's doing. If you're going to be — I don't know, I don't even think he knows who he is."
Comments
comments