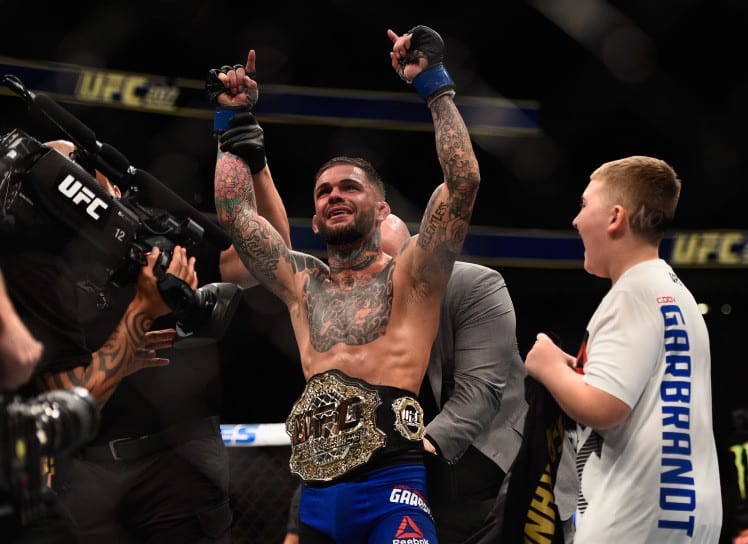 When Cody Garbrandt came out of UFC 207 as the new UFC bantamweight champion after dazzling the world with a performance of a lifetime, many fans immediately started posing questions as to what was next for the young star.
Unsurprisingly, with former Alpha Male teammate T.J. Dillashaw handily defeating John Lineker earlier in the night, most put forth the idea that the two would be matched up, while Cruz fought again to return to title contention.
According to 'No-Love' though, he would rather just get right back to it.
"You know what, I had so much fun in there, Dom's been arguably the best bantamweght in the world, let's run that shit back again," Garbrandt said, post-fight. "Let's give him an immediate rematch and he can go on to the next chapter of his career. I'd like to give Dominick Cruz a rematch. Ultimately, it's up to the UFC, but I'm the champion. I'm the baddest dude in the division, so ultimately, I call the shots."
Should that end up happening, it's likely Dillashaw — who was already furious with Garbrandt receiving a title shot ahead of him — would be apoplectic. Speaking after his own fight last Friday, Dillashaw made his case for a shot at his old belt, and even stated with confidence he would be facing Cody next… unless of course there is something going on behind the scenes.
"I want my belt back, that's my belt," Dillashaw said. "If I don't get the next title fight we know this shit is rigged."
But, luckily for the former bantamweight champion, Dillashaw looks like he might just be getting a championship fight.
"TJ Dillashaw said the whole thing was rigged, so I think I'm going to give the rematch to Dominick Cruz just to make him right," UFC president Dana White said jokingly on the FS1 post-fight show.
"Dillashaw came in tonight, Lineker is a tough fighter, if you watched the Lineker fight against [John] Dodson, he went after Dodson all night," White said. "He didn't dare go after Dillashaw that way because he was being taken down with ease. That takedown made him gun shy. He didn't want to throw the hands or run after him. Dillashaw made it look easy against a very tough guy, a scary guy that can knock you out at any moment.
"Dillashaw is a total conspiracy theorist and says next in line, but yes, he's probably next in line for the title."
Comments
comments