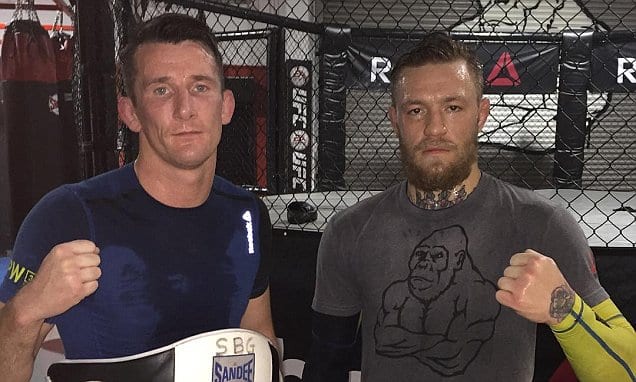 Conor McGregor vs. Eddie Alvarez at UFC 205 has the potential to be the biggest fight in the history of the sport.
The first event to be held in New York city, the UFC have made it a point to put on a mega-card. As the current featherweight champion, McGregor has the chance at being the first UFC fighter to ever hold two titles in two different weight divisions simultaneously.
Owen Roddy, McGregor's striking coach for around ten years, thinks it's the perfect fight to headline such an event.
"I honestly believe what Conor's doing is unbelievable," Roddy told Submission Radio. "For him to be going for two titles, and to hold them at the same time, it's never been done before. You gotta back that, I think everybody wants to see it, I think everybody's excited for it. I'm sure Dana and the UFC are excited to see how this plays out."
Not that it was necessarily easily put together. Before the fight was officially announced, UFC President Dana White had made comments that McGregor was carrying an injury to his foot or leg, even stating that he was ignoring doctor's orders when accepting the bout.
Something Coach Roddy, however, was quick to reassure concerned fans about.
"You seen the amount of kicks he threw in the Diaz fight," Roddy said. "And he obviously caught a few of them on the knee and just really badly bruised his shin, but there was no serious issue with the foot. I think they found a small fracture from a while back but it was nothing. The shin itself was really, really bashed up from after the fight but after a couple of days he was back training. Moving around in the gym in Vegas, so there's no issues there, he's a hundred percent."
Some have also speculated that McGregor was perhaps returning too fast from such a brutal back and forth war, and would rather have seen the Irishman take some more time off to recuperate. Again, fears Roddy was quick to calm.
"He was hit but Conor is so good at rolling with the shots," Roddy said. "He never once really got dazed or rocked. He got hit hard a couple of times, but nothing where you could tell he was dazed or really hurt and he very, very rarely… you know I could count on my hands how many times I've seen him being hit clean."
November 12 marks McGregor's debut at lightweight in the UFC, something fans have been waiting to see since March of this year. Scheduled to fight then-champion Rafael Dos Anjos at UFC 196, the 155-pound scrap was cancelled when the Brazilian pulled out with injury.
"For me, this is it, [lightweight is] where you're going to see the best Conor McGregor," Roddy said. "I was talking to somebody else about this the other day; that fighting at welterweight, it's hard for Conor to maintain his high output for 25 minutes. He's not a welterweight you know, but he done it, he did it against one of the toughest fighters in the game.
"And then with 145, he does a lot to get the weight off. He makes the weight perfect, but I don't know how much he's recovering in that 24 hours. I can't imagine him getting back to 100% in that 24 hours when he fights at 145, and you see [his performances] at 145.
"But at 155, if you look at some of the fights in Cage Warriors; he just looks so good at that weight. That's the weight he was supposed to be fighting at. I think you'll see the fastest, the fittest and the sharpest in regards to his mind, the sharpest McGregor that you will ever see now at lightweight."
UFC 205 takes place on November 12, at Madison Square Garden arena in New York City. It marks the organisations first appearance in the state of New York, where mixed martial arts was finally legalised earlier this year.
Comments
comments