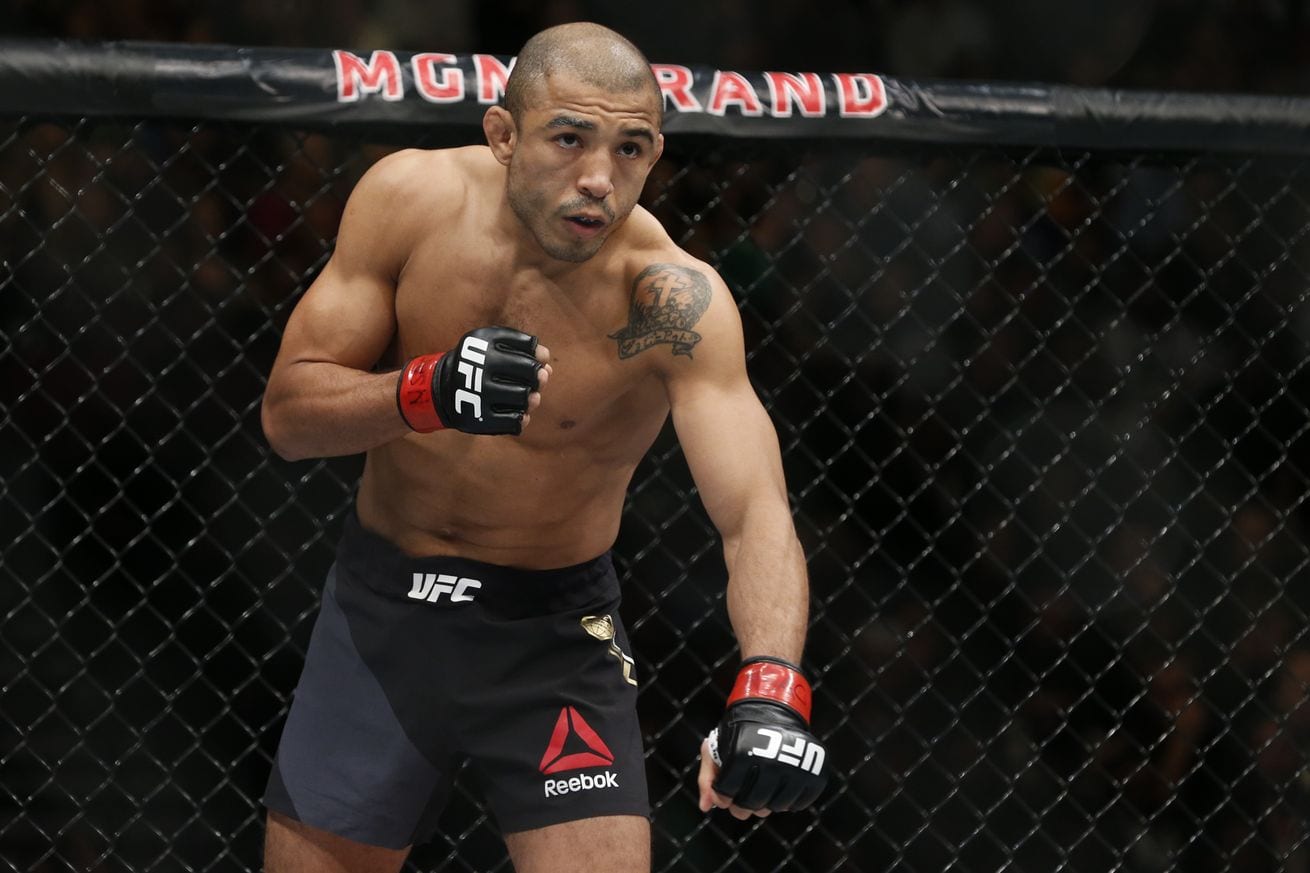 After more than a decade sitting at the top table of the featherweight division, José Aldo's Zuffa tenure appears to be drawing to a close. The former undisuputed WEC and UFC featherweight kingpin has lost three of his last four UFC bouts by stoppage (once to Conor McGregor and twice to Max Holloway) and with his title aspirations at 145-pounds looking flimsy at best, the Brazilian legend appears to be leveraging for his UFC walking papers.
Aldo has long toyed with the idea of a move to boxing, even asking UFC president Dana White for permission to pursue his ambition to trade the 40z gloves for their boxing equivalent. While that was ultimately refused, Aldo's coach Andre Pederneiras said that Conor McGregor's boxing match with Floyd Mayweather last year piqued his fighter's interest even further.
"Aldo has wanted to do boxing for a long time," Pederneiras said to SporTV as translated by MMA NYTT. "This happened for Conor, but this wasn't of interest between us and the UFC. We had other issues that we went to Vegas to talk to Dana about.
"He asked to fight boxing, Dana denied and, later, Conor was fighting boxing. He did not have the thought he thought he might have," he continued. "Months before he asked, the answer was no. Months later Conor manages to fight in boxing without a problem and the UFC allowed it. Of course, he has a lot of money involved and in his [Aldo's] fight he would not, but not everything in life is money. He became quite unmotivated."
Aldo's exploits throughout his near 14-year professional career have already written his name indelibly in the mixed martial arts history books and, perhaps unlike some fighters who cling on past their sell-by date, the Brazilian appears motivated to not stick around if he is not as sharp as he once was.
"We're still talking to see how much he wants to keep fighting or not," Pederneiras said. "I think Aldo's career is a career that nobody can talk badly about. He can do whatever he wants. To retire, to continue, to make a super-fight. He is thinking.
"He is a guy who has managed to make a lot of money over the course of his career and he can retire today without depending on anyone. He will never go hungry in his life. He invested his money, he knew how to save it."
It is worth nothing that things change very quickly in mixed martial arts but, as of now, Pederneiras suggests that the writing is on the wall for José Aldo.
"I think Aldo has been at it for a long time, in a very continuous time. I think Aldo could take a vacation and feel that motivation to return. I already talked to him, but he wants to end the UFC contract as soon as possible."
Comments
comments