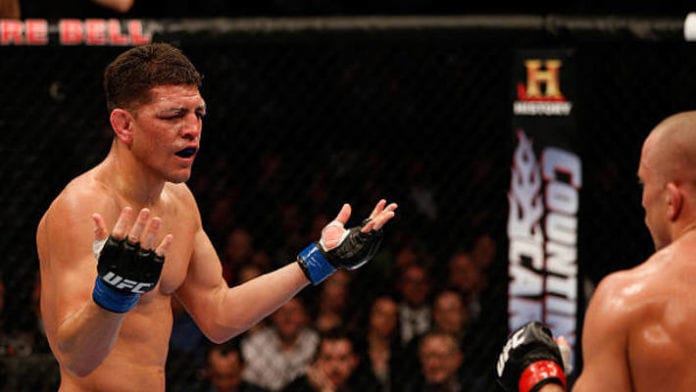 Nick Diaz didn't exactly roll back the years in rematch with Robbie Lawler last September.
The Californian returned to the UFC cage nearly a year ago after a more than six-year exile from the UFC to take on fellow veteran Lawler in a rematch which took place some 17 years after their first meeting. But whereas that first fight laid the groundwork for what would be a legendary fighting career, the 2021 iteration of Diaz was a pale imitation of the fighter who chopped down the highly-rated Lawler all those years ago.
But as his coach Cesar Gracie explained to Submission Radio (via Bloody Elbow), Diaz was far from healthy going into the contest.
"So Nick, he went into that fight and his neck was pretty messed up," said Gracie. "Robbie's a great, tough fighter and everything. And, Nick was doing great. And then you kind of see Nick kind of just kind of fading as the fight wore on. [He] had an operation very recently here seven weeks ago. So, two of the discs had ruptured in his neck before the fight. So, he was having numbness of the hands. That's why he didn't make 170.
"He fought at 185, is cause it was impossible to train. He just didn't have any strength. He didn't have what you're used to, the Nick Diaz, you know, he didn't have it."
Gracie also confirmed that Diaz was offered a fight with Khamzat Chimaev instead of the Lawler outing — but that they opted to for Lawler because they weren't aware of who Chimaev was. That task, it seems, has been passed down to Nick's younger brother Nate.
"And, I think they wanted him to fight Khamzat back then also," Gracie explained. "Which was kind of weird, cause we didn't even know who that guy was. So it was like, well, who is that? The fans don't really know him. I think he had like three or four fights or something. So then what happened was, basically Nick was like, 'if I'm gonna lose, I'm gonna lose to Robbie Lawler.' Because he respects Robbie Lawler. And that's why after the fight he said, 'I think I probably had that coming.'
"It was just like, if you're gonna lose, you lose to a veteran, a warrior. Nick had to pretty much take that fight. There was a lot of things weighing in on him."
But will all that said, Gracie says that Diaz today is as healthy as he has ever been — and vowed that the Stockton man will be seen in the Octagon again.
"Right now he can only run and hit the pads and everything. But he definitely wants to fight. And the UFC, I've been in contact with them, they just actually called me the other day asking about Nick, and there's some pretty cool fight options that are in front of us."
Comments
comments