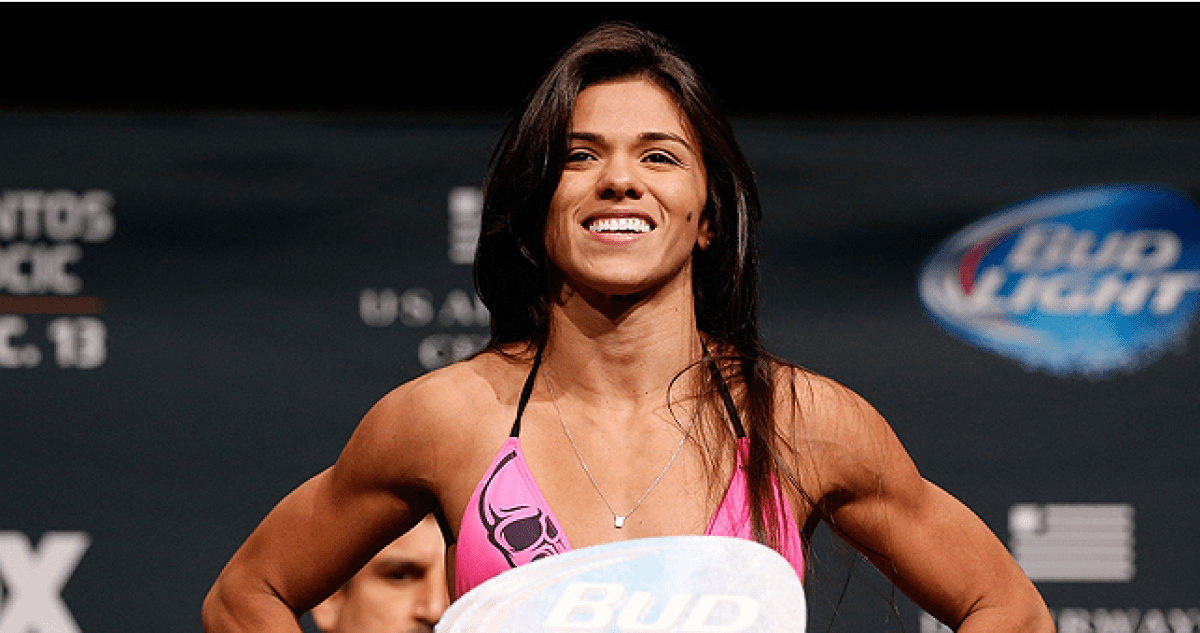 It looks as if the rivalry between Claudia Gadelha and Carla Esparza is here to stay.
Prior to UFC 225 last Saturday, the pair had bad blood stemming back to the earlier part of their careers, some five years ago. While some fighters find that a decent fight goes someway to stop any ill feelings, Esparza revealed yesterday that she felt hard done by when the judges scored the bout in Gadelha's favour — both because of her own performance, and because she felt Gadelha had cheated via greasing.
"It's pretty shady to me," Esparza said on MMAFighting's The MMA Hour, Monday. "I've rewatched the fight, we finally rewatched the fight and my hands were slipping right off, even when I was trying to grab armbars in the fight my arms were just slipping right down. She's a cheater, but it doesn't really surprise me. In my opinion she's been a dirty fighter throughout, so it is what it is.
"Like I said, I'm not too surprised that she's a cheater and found a way. It's kind of upsetting — I felt I won it anyway — but I felt things could have been more dominant on my side had that not been the case. Claudia, you're a cheater. Straight up. It's not cool."
And just for the record, I would NEVER publicly accuse someone of anything unless I was 100% sure.

— Carla Esparza (@CarlaEsparza1) June 11, 2018
Today, Gadelha shot back at Esparza's claims, pointing to the fact she'd been around Illinois commissioners throughout her preparation on fight night, and was (as is the norm) checked for excess vaseline on her body by an official prior to entering the Octagon.
"There's an athletic commission with officials following you the moment you enter the arena up until the point you enter the Octagon, including inside the Octagon, checking if there's something on your body," Gadelha said, speaking with Guilherme Cruz of MMAFighting. "Come on, we're in 2018, this greasing story is from Vale Tudo days, don't know how many years ago. At this level, today, I don't think it happens anymore.
"And by the way, my strategy was to grapple her. I'm a grappler. Why would I put something on my body to not be able to grapple? I was talking to my coach now, we have a list of things written on a paper, notes of things we planned doing in the fight, and grappling was the biggest part of my strategy. Why would I put something on my body? That makes no sense."
Comments
comments