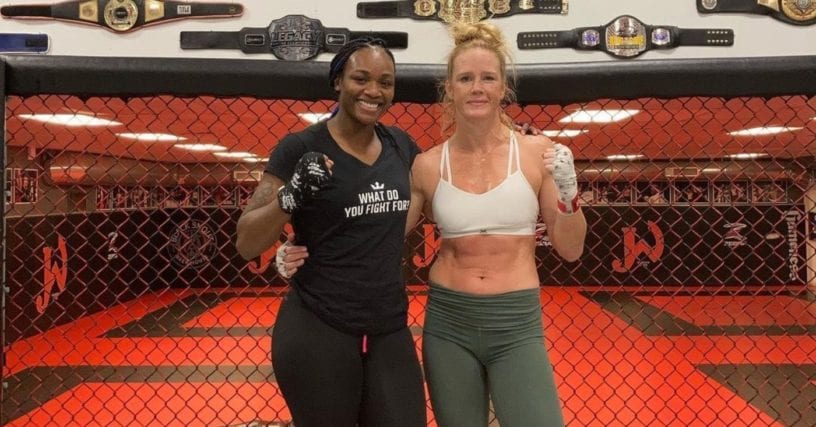 When Claressa Shields decided to enter the world of mixed martial arts, she made the conscious choice to work at JacksonWink to prepare.
In doing so, she surrounded herself not just with hungry MMA fighters, but two of the best to ever do it in Jon Jones and Holly Holm. While Holm and Jones would be phenomenal partners for any prospect, for Shields, training alongside Holm has the extra advantage of someone showing her the exact transition she's undertaking right now.
Holm, a former world champion boxer, is one of the few pugilists to make mixed martial arts her own, and as such is the perfect figure for Shields to learn from.
"Holly just said to enjoy the process," Shields said, speaking to Marc Gatford of Betway. "To enjoy the process, to train and to have fun. Make it my own style, you know? Holly has been super supportive. Inside the gym, outside the gym. We have Sunday dinners together, text sometimes, when I'm there, we can hang out a little bit. She's super cool, super down to Earth. I love it."
But, while Holm made the choice to fully leave boxing behind her when she made her move into MMA, we won't be seeing Shields following in her footsteps. For Shields, boxing is just too large a factor in her life to ignore.
"Holly accomplished a whole lot in boxing, also she was older than me when she transitioned, so I think she wanted to take advantage of the time she had left," Shields said. "She decided to just focus on MMA. For me, I'm a lot younger, and have been boxing my whole life, so it's not like I just can just give it up.
"I wouldn't be alright spiritually because I love boxing so much, it's a part of me. Holly Holm, back in her day, she did kickboxing, while it's only been boxing for me. So it was easier to go to MMA with the fact she did kickboxing and boxing before, so she only needed to add jiu-jitsu and wrestling to her resume and she was a great MMA fighter.
"But I can definitely see why she chose to focus on one. It's hard, but I'm a lot younger and I have maybe a lot more energy to just go for both of them. But that's my goal: to be boxing world champion and to be an MMA world champion at the same time, that's the overall goal."
Comments
comments