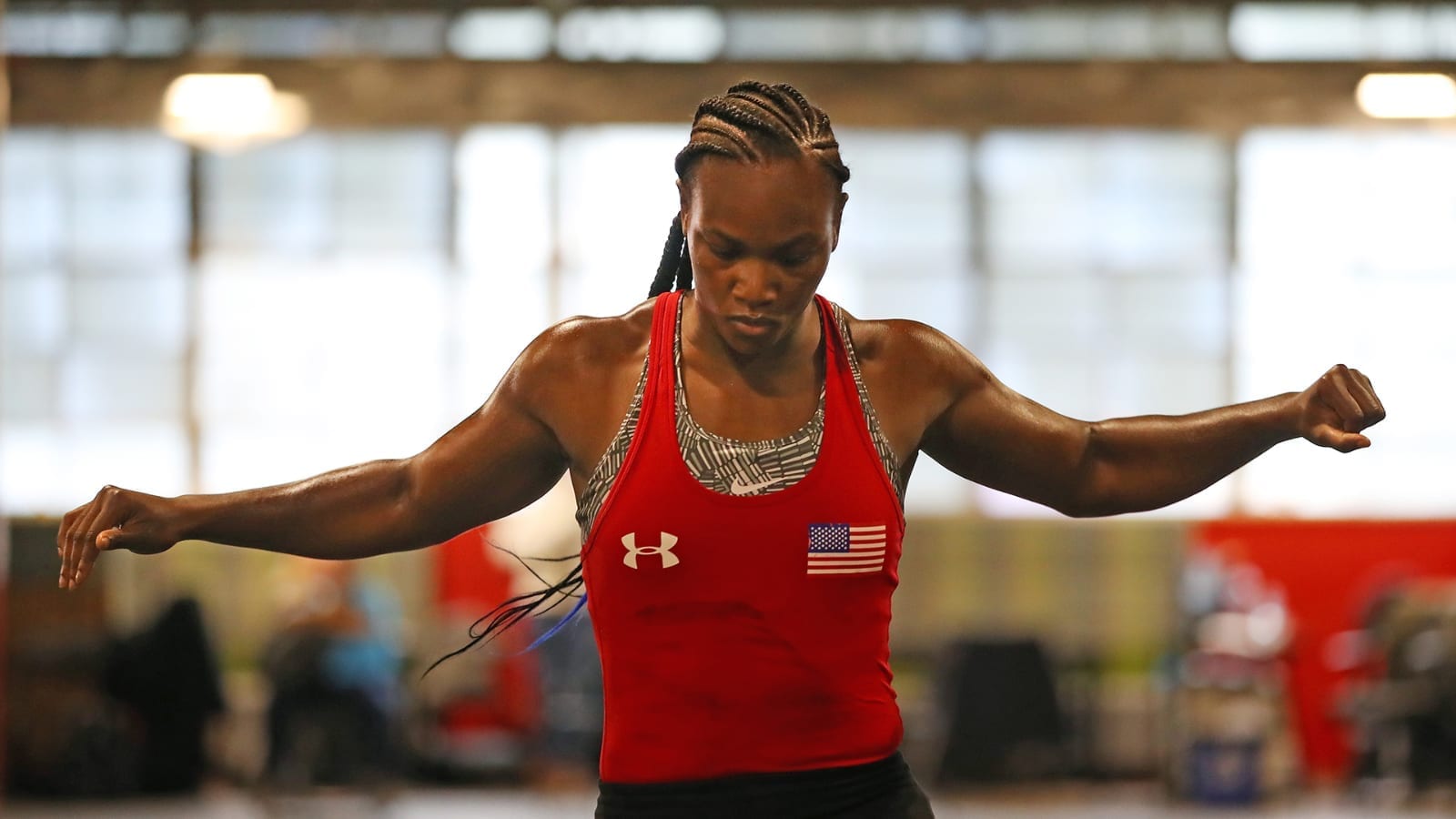 Claressa Shields says she'll be beginning her mixed martial arts preparation in 2020, with an eye to enter the sport soon after.
Shields has been linked to the world of MMA for a while, but those links kicked into overdrive when she attended UFC 245 to watch Amanda Nunes from cageside. Backstage that night, Shields pitched a trade-off, wanting to fight Nunes in the boxing ring with the agreement she'd head to the Octagon for the rematch.
First, however, Shields needs to get her training underway, and she already has a name whom she's set to work with who will definitely be able to teach her a thing or two — UFC light heavyweight champion Jon Jones.
"I'm starting my training this year, 2020," Shields said, speaking to BJPENN.com. "I've been able to catch on to things very fast, learn and I've had some great people who have reached out to me. I'll be going to camp with Jon Jones, I believe, at the end of February just to see if I can get into the whole training thing and do what he does because he's so great. I'm looking forward to it."
As far as Nunes, Shields is definitely still interested. She says the entire conversation regarding her and the UFC featherweight and bantamweight champion began when Nunes knocked out Cris Cyborg, with pundits suggesting Nunes might have the best hands seen in either boxing or MMA.
Shields wasn't a fan of the suggestion.
"I remember when Amanda Nunes knocked out Cris Cyborg and, I don't know who said it, but they said, 'Amanda Nunes has the best hands that we've seen in any sport, boxing or MMA,' and I was like, 'No! We are not going to do that. We are not going to say that Amanda Nunes has better hands than me,'" Shields said. "I'm a two-time Olympic gold medalist in boxing. I just wasn't going to settle for that. That's why I wanted to have a fight with her in boxing because when she beats girls in the UFC, the majority [of her wins] are with her hands. She knocked out Cris Cyborg with one punch. For me, I want to get in there and fight her because of that."
So how would it go?
Following UFC 245, Nunes scoffed at Shields' idea for a boxing match, and instead pointed to her grapple dominant win over Germaine de Randamie as evidence why Shields wouldn't want to step into the Octagon, even saying she'd "strangle the shit" out of her.
To fighters, words like that are red rags to a bull.
"Me watching Amanda Nunes cageside, I can tell you that I'm way faster than her, I'm in way better shape than her and I can probably punch harder than her too because I'm coming down from 160," Shields said. "That's why I said we should make the fight happen. Now, all of a sudden, she's saying boxing isn't her thing, she doesn't like boxing all of a sudden. How can you say you don't like boxing when you clearly knock girls out in MMA? You're knocking girls out with your hands. It was kind of confusing and it shows where her heart is at. Then she went into the whole, 'I'll drag her down to the ground and I'll submit her', she's gonna have to back all that shit up once I start learning some shit. I'm not going to take that lightly.
"That's my motivation; her saying that she'll submit me and she'll choke me out instead of boxing me in MMA. Now I'm excited to learn some stuff so that doesn't happen and I'm gonna give her the hardest challenge of her life if we ever do fight — in boxing, or MMA, or both."
Comments
comments