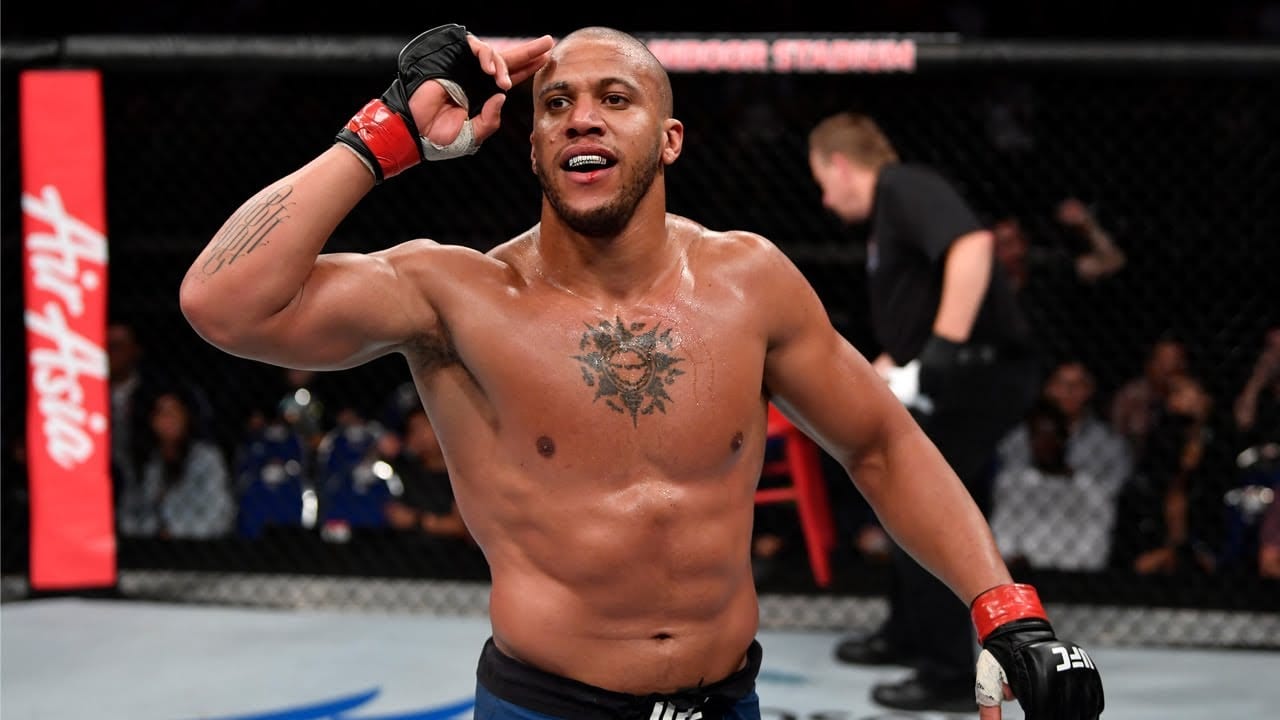 Ciryl Gane hasn't met his match in his brief UFC career thus far.
The Frenchman has been perfect since inking a deal to join the UFC's heavyweight division in 2019, with each fight along the way enhancing his reputation as one of the most skilled strikers to have been seen in the weight class in some time. His seven fights with the organisation to date saw him competition amp up each time — and now with the likes of Junior Dos Santos, Jairzinho Rozenstruik and, more recently, Derrick Lewis on his list of victims, he stands poised for greatness if he can best Francis Ngannou when they meet for the undisputed championship early next year.
And as Gane told Submission Radio, he isn't wary of Ngannou's much vaunted power.
"This is not scaring me," Gane said. "You see with Derrick Lewis, he had big knockout power too. Derrick Lewis is a beast too. But it was not a problem. When you look at the fight, I stayed inside like that with his punches. It was not a problem. A heavyweight like me, I can punch too like that with a big transfer. But no, it's not a problem for me. This is really not scaring me.
"I'm really confident in myself. When I started in Muay Thai too I was like that, because every fight in my career, in front of me, it was a man more experienced than me. Every time. And that's why I was really confident that everything is possible, and I did it. So, today I think I have my chance too. He has his qualities, his strengths, I have mine. And we will see in January who can make his game plan better than his opponent."
View this post on Instagram
Their upcoming fight won't be the first time that each has felt one another's power. Gane and Ngannou famously spent time training together in the past in France, and Gane says that he still remembers how hard Ngannou can hit.
"I remember the first sparring we did, I was like, okay, this man likes to punch really hard," Gane said. "And he punches for real. Like, even when it was just sparring, he liked to punch really hard. And I was really happy about that, because for me it was really great for me to comparing myself with Francis. Because when I started MMA, he was already in the top five. So, it was really great for me to compare myself, my level.
"It's not a secret. Everybody knows what his strength is, everybody knows what it is. Having that big knockout power, everybody knows that. So, it's not a surprise. It's exactly the same at the gym, during the sparring sessions. So, yes, this has helped me a little a bit to know who he is, but it is not a surprise. I have Fernand Lopez. He was his coach too. So, this maybe helps me more than nothing. So no, nothing special. This short session of sparring we did helped me just for my experience, not to know for this future fight. No, not really."
"It's not a secret. Everybody knows what his strength is, everybody knows what it is. Having that big knockout power, everybody knows that. So, it's not a surprise. It's exactly the same at the gym, during the sparring sessions. So, yes, this has helped me a little a bit to know who he is, but it is not a surprise. I have Fernand Lopez. He was his coach too. So, this maybe helps me more than nothing. So no, nothing special. This short session of sparring we did helped me just for my experience, not to know for this future fight. No, not really."
"It's not a secret. Everybody knows what his strength is, everybody knows what it is. Having that big knockout power, everybody knows that. So, it's not a surprise. It's exactly the same at the gym, during the sparring sessions. So, yes, this has helped me a little a bit to know who he is, but it is not a surprise. I have Fernand Lopez. He was his coach too. So, this maybe helps me more than nothing. So no, nothing special. This short session of sparring we did helped me just for my experience, not to know for this future fight. No, not really."
"It's not a secret. Everybody knows what his strength is, everybody knows what it is. Having that big knockout power, everybody knows that. So, it's not a surprise. It's exactly the same at the gym, during the sparring sessions. So, yes, this has helped me a little a bit to know who he is, but it is not a surprise. I have Fernand Lopez. He was his coach too. So, this maybe helps me more than nothing. So no, nothing special. This short session of sparring we did helped me just for my experience, not to know for this future fight. No, not really."
"It's not a secret. Everybody knows what his strength is, everybody knows what it is. Having that big knockout power, everybody knows that. So, it's not a surprise. It's exactly the same at the gym, during the sparring sessions. So, yes, this has helped me a little a bit to know who he is, but it is not a surprise. I have Fernand Lopez. He was his coach too. So, this maybe helps me more than nothing. So no, nothing special. This short session of sparring we did helped me just for my experience, not to know for this future fight. No, not really."
"It's not a secret. Everybody knows what his strength is, everybody knows what it is. Having that big knockout power, everybody knows that. So, it's not a surprise. It's exactly the same at the gym, during the sparring sessions. So, yes, this has helped me a little a bit to know who he is, but it is not a surprise. I have Fernand Lopez. He was his coach too. So, this maybe helps me more than nothing. So no, nothing special. This short session of sparring we did helped me just for my experience, not to know for this future fight. No, not really."
"It's not a secret. Everybody knows what his strength is, everybody knows what it is. Having that big knockout power, everybody knows that. So, it's not a surprise. It's exactly the same at the gym, during the sparring sessions. So, yes, this has helped me a little a bit to know who he is, but it is not a surprise. I have Fernand Lopez. He was his coach too. So, this maybe helps me more than nothing. So no, nothing special. This short session of sparring we did helped me just for my experience, not to know for this future fight. No, not really."
Comments
comments