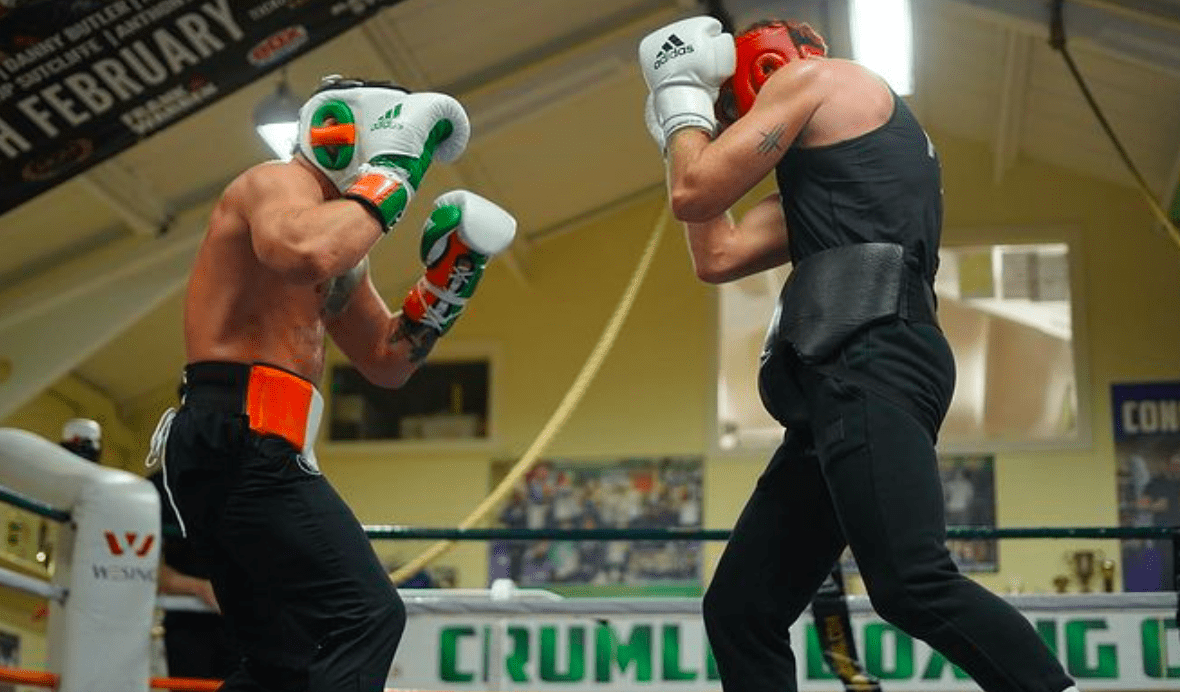 Cian Cowley, a regular sparring partner of Conor McGregor's over the years, has detailed what it was like to share the ring with the Dubliner on his return to full-contact sparring last week. 
McGregor, who had long promised that he would return to sparring in April several months after suffering a debilitating injury to his lower left leg in the cage last summer, made good on his word a week ago when he returned to throwing heavy leather in the Crumlin Boxing Club ring in which he first forged his path towards being a combat sports world champion all those years ago.
Pictures of the session soon made their way to Instagram showing McGregor in imperious shape and Cowley later told the Mirror of how it felt to share the stage once again with the UFC two-weight world champ.
View this post on Instagram
"He was in with me, we just had a few rounds," Cowley said of the session. "Conor's always training like that. People go on like 'he's back', he never left and he's always training.
"Just because you don't see it on the internet doesn't mean he's not training – it didn't shock me at all, it's Conor McGregor, like. Everyone knows, real fighters know a real fighter when they see one so it doesn't shock me, it doesn't surprise me. The fella is an animal and it's an honour to train with him."
It remains to be seen exactly who McGregor will stare across the cage from on his return to action, which will presumably come later this year. But whether it be a lightweight, a welterweight, or someone even heavier, Cowley knows one thing for sure.
"Never write Conor off," Cowley stated. "Worst mistake ever is writing Conor McGregor off, that's the truth."
As for Cowley, who last month defeated Alexandru Balaur in his own return to action, he is hoping to get back in there again sooner rather than later.
"I'd like to get out before the summer hopefully," Cowley said. "I don't know when the fight will be but I'm prepared, I'm training. I'll be back training in the morning, whatever comes up I'd like to get out in May and ideally have had four or five fights by the end of the year.
"I know we all say that, but I had a bad injury on my neck, I didn't know if when I would fight again. But I got the all-clear and went straight back in. Now I just want to rack up wins."
Comments
comments