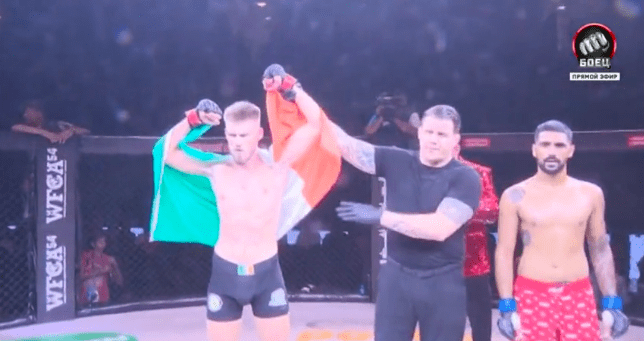 A great week for Irish MMA has just gotten better.
On the back of Team Ireland's success in the IMMAF World Championships in Bahrain, Cian Cowley has earned his second professional win by defeating Hardeep Rai via first round TKO at Brave CF 18 at at the Khalifa Sports City Arena in Manama, Bahrain.
Cowley dominated the brief contest as the JacksonWink trained Rai struggled to adapt to the long, angular strikes of the Muay Thai champion. The end came after Cowley doubled-down on his leg kicks, appearing to injure Rai's left leg with a vicious strike. Rai attempted to fight through it but he was unable to mask the look of pain on his face — an invitation to the Irishman to continue his onslaught.
'The Warrior' sent Rai to the canvas with another swinging kick, following him down and taking mount. The end came moments later after an unanswered barrage of punches and elbows, with referee Marc Goddard ending the fight at 3:40 of the first round.
nasty low kicks and GNP
Cian Cowley TKOs Hardeep Rai in 1R (Brave) pic.twitter.com/iga0numn1g

— Jolassanda (@Jolassanda) November 16, 2018
With the win Cowley moves to 2-1 in his young career.
His win comes in the midst of an outstanding week for Irish MMA, with FIVE members of Team Ireland battling for gold at the IMMAF World Championships, also in Bahrain.
Lee Hammond, one of the gold medal hopefuls and a close friend and training partner of Cowley's, was cageside along with John Kavanagh for the bout.
Comments
comments