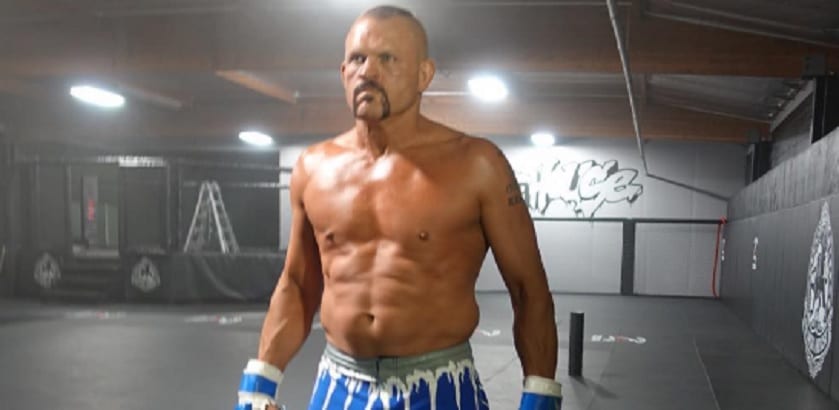 Chuck Liddell, 47,  hasn't thrown a punch professionally in more than seven years but the former UFC light heavyweight champion has confirmed that he is ready, willing and able to end his retirement, so long as an offer that makes financial and athletic sense comes his way.
For the best part of a year, 'The Iceman' has been toying with the possibility of a comeback, teasing his potential return with social media videos of him training, or pictures of him in his fight kit in admittedly excellent shape.
Liddell, who severed all ties with the front office job he held in the UFC last December, has given the strongest sign yet that he is seriously considering a return to the cage.
Speaking with MMA Tonight and as reported by MMAFighting, Liddell remained coy but left the door open to at least one more fight.
"I've thought about it but everyone's gonna have to keep wondering. I'm not sure yet, so we'll see. I'm healthy. It would probably take more than [a month] to set it up, but I'm not sure yet. We'll see. I mean, it depends on what gets offered. If someone offers me something crazy, I could fight tomorrow, but it just depends.
Should he return to action, it is speculated by many that Bellator would be his most likely port of call given their recent history of signing MMA veterans like Tito Ortiz and Royce Gracie. Indeed, Chael Sonnen has already stoking the flames of a bout between the two — going so far as to say that Liddell was offered a fight against him but turned it down.
"That's not true," Liddell retorted. "I've never been offered a fight and I definitely never been offered to fight him. He doesn't worry about the truth too much with his trash-talking. He's not afraid to be liberal with his facts."
Comments
comments