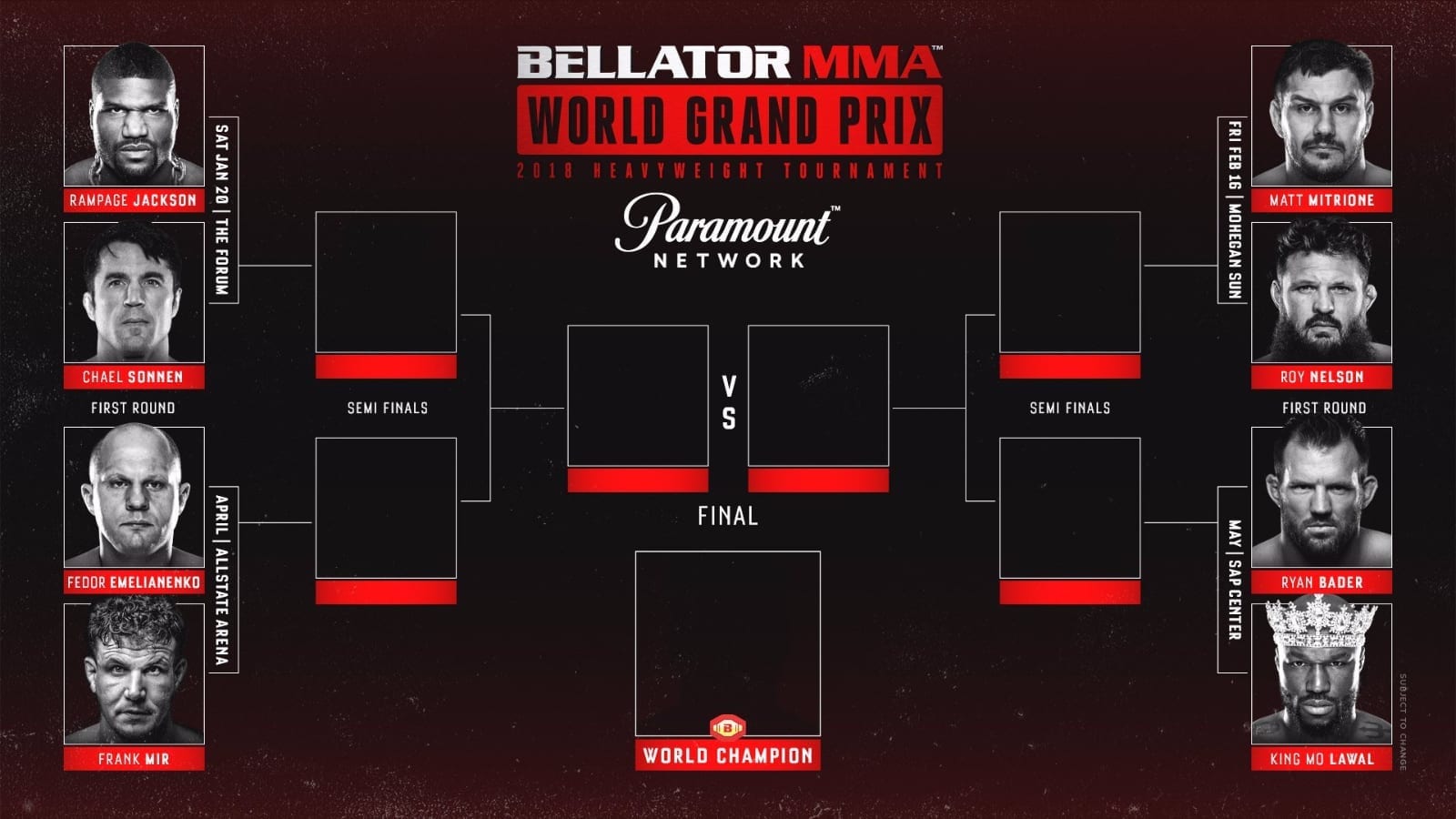 The brackets are written, and the Bellator MMA heavyweight tournament is set to begin.
For weeks, fan's have been awaiting the announcement for the opening round of the upcoming contest. All the fighter's had been announced, but while some fixtures had been reported or suspected, none were truly confirmed until tonight on ESPN's Sportscenter.
The opening round fights are as follows:
Quinton Jackson vs. Chael Sonnen
Fedor Emelianenko vs. Frank Mir
Matt Mitrione vs. Roy Nelson
Ryan Bader vs. Muhammed Lawal
The first fight of the tournament, titled the 'World Grand Prix' will be between Jackson and Sonnen at Bellator 192, which takes place January 20 in Inglewood, California.
Just announced on @SportsCenter: The Heavyweight World Grand Prix bracket is set and kicks off Jan 20th in LA with @ChaelSonnen vs @Rampage4real!! pic.twitter.com/jEB9pPg4wD

— Bellator MMA (@BellatorMMA) November 23, 2017
The tournament will then continue with bouts on a monthly basis. Mitrione vs. Nelson will likely clash at a Bellator event on February 16, while Emelianenko vs. Mir will be held in April before Bader vs. Lawal in May. The current belief is the promotion will wrap up the Grand Prix by the end of 2018.
With mixed martial arts being the unpredictable beast that it is, there is always the possibility of the current order being affected. With that in mind, Bellator boss Scott Coker revealed a number of potential alternates that could be called upon should they be needed — including former UFC heavyweight Shane Carwin.
"We've had a lot of interest from fighters all over the world who want to be a part of the Grand Prix," Coker said on ESPN. "Everybody from Rory MacDonald to Linton Vassell.
"But I think when it comes down to it, the potential alternates that we'd seriously look at will be Bobby Lashley, Cheick Kongo, Javy Ayala, Justin Wren, Sergei Kharitonov and Shane Carwin. Carwin reached out to us, so we're talking to him now to see if we can make something happen."
The winner of the tournament will be crowned the new Bellator heavyweight champion.
—
Comments
comments