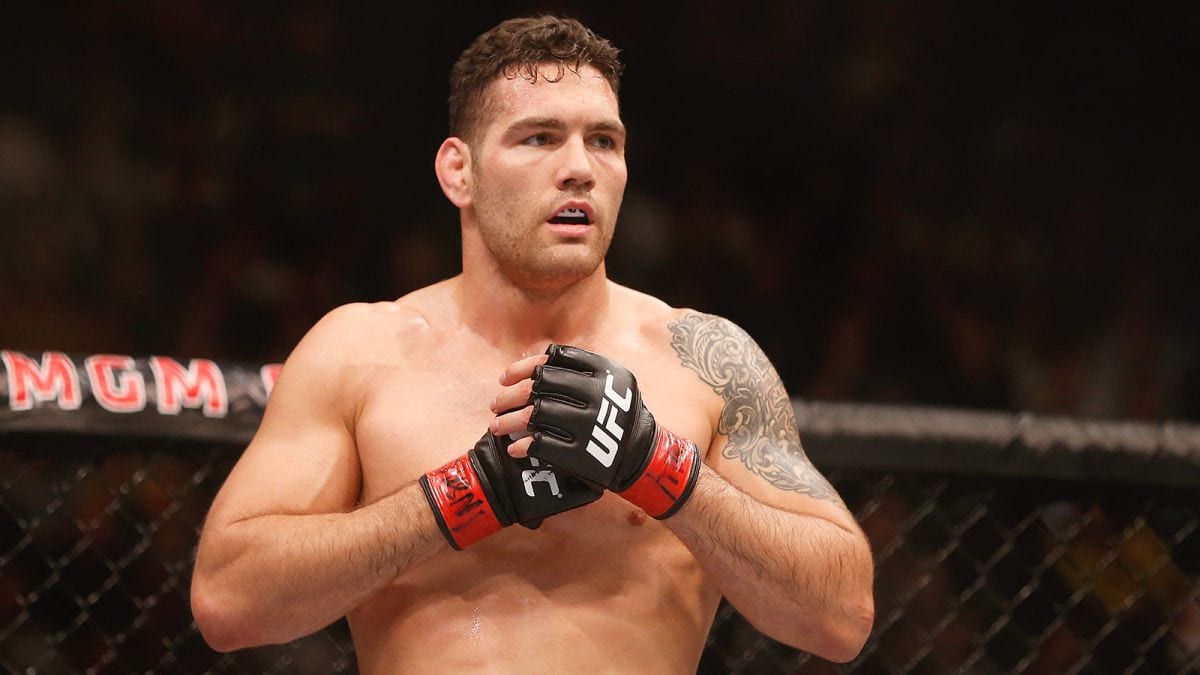 Chris Weidman hasn't really been one for trash talk over his UFC career, but it seems with a new beginning at light heavyweight comes a new attitude.
The former UFC middleweight champion is making his move to 205-pounds, and (as reported first by ESPN's Brett Okamoto), will meet Dominick Reyes in his divisional debut. The pair are set to clash in the main event of UFC Fight Night on October 18 in Boston, Massachusetts.
Interestingly, along with the fight announcement has come some tetchy back and forth between the two. Earlier today, Reyes said he had his eyes fixated on UFC light heavyweight champion Jon Jones, but was content to meet Weidman should the UFC ask — something that seemed to irk the newcomer at 205.
"Did you forget you had a controversial split decision win your last fight?" Weidman asked. "You think [you] would deserve a title shot? And about taking my head I look forward to making you humble."
That shot provoked a similar toned reply from Reyes, who wrote in response: "Did you forget your last 4 at middleweight!? Controversial or not a win is a win. In fact, It gave YOU this opportunity so I'll just have my best performance against you (ex-champion). Then there will be no debate I am The 1. Don't confuse confidence with arrogance Chris."
With the light heavyweight division currently lacking in depth, and with Jones' renewed interest in competing regularly and consistently, whomever emerges victorious could well have a claim to meeting the champion in the near future.
I agree and I want Jones, but if they want me to take Weidmans head to prove I am the one, I'd be more than happy! #proveit #devastator

— Dominick Reyes (@DomReyes) July 23, 2019
Did you forget you had a controversial split decision win your last fight? You think u would deserve a title shot ? And about taking my head I look forward to making you humble. https://t.co/GHva7RY2Z9

— Chris Weidman (@chrisweidman) July 23, 2019
Did you forget your last 4 at middleweight!? Controversial or not a win is a win. In fact, It gave YOU this opportunity so I'll just have my best performance against you (ex-champion). Then there will be no debate I am The 1. Don't confuse confidence with arrogance Chris. #mytime https://t.co/gkyzQecJkC

— Dominick Reyes (@DomReyes) July 23, 2019
I have more UFC world title belts then you have UfC finishes. See you in Boston, Devastator. https://t.co/sLSYgznYHy

— Chris Weidman (@chrisweidman) July 23, 2019
–
Comments
comments