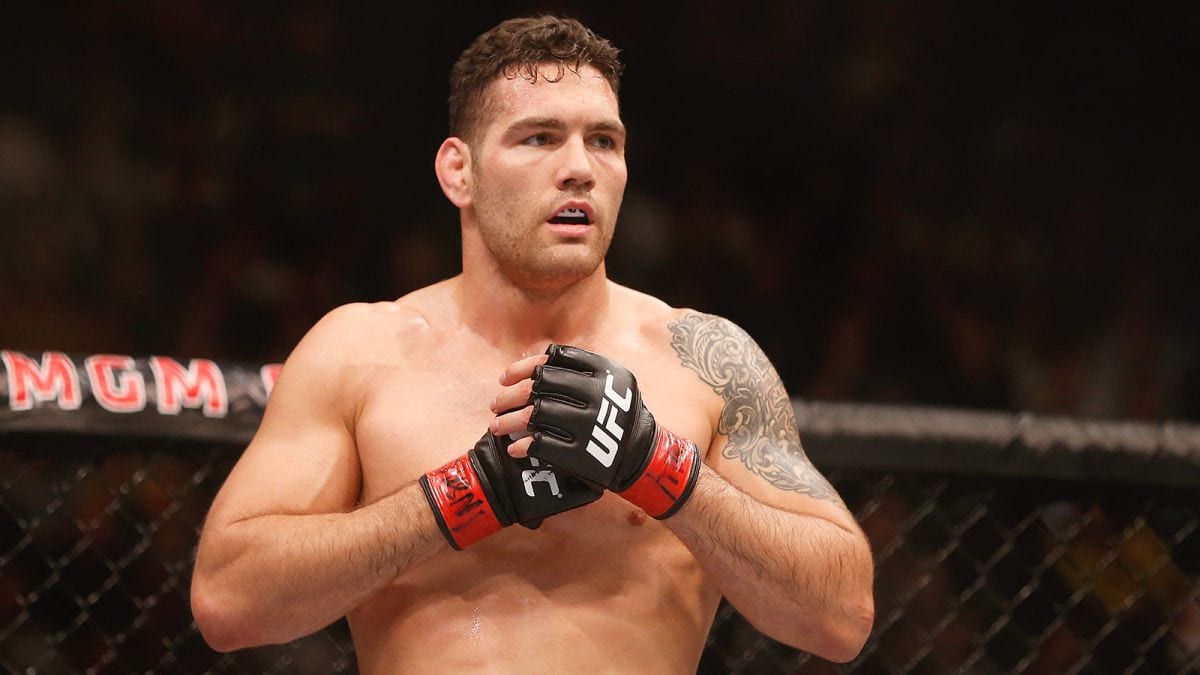 You haven't seen the last of former UFC middleweight champion Chris Weidman.
Weidman, 37, suffered a gruesome break to his leg early in a fight with Uriah Hall in April of last year which required more than one surgery to correct but after some very testing months, he says he is finally starting to feel like he is close to a return to the cage — and says that he wants this to become a reality before he hits 38 in June.
"That's my goal," he said via MMA Fighting. "I hate seeing the older age on the screen when I get introduced. I've always been like that, even when I was in my 20s. I don't want to be 29, I want to be 28 for the next one. So I still have that in me a little bit, now I'm just way older. So if I could fight around early June, that would be great. Again, there's a lot in the air and it's very unpredictable.
"This is a very serious injury. I've been through lots of injuries before, obviously you know I've had 25 surgeries. This is very different. There's a lot of moving parts. So I have goals when I'd like to fight but I'm not going to die over a month or two difference. I am coming back and I am coming back in 2022."
View this post on Instagram
Weidman says that he still isn't fully healed from the injury as some residual pain remains when he performs certain activities, but that it is obviously one heck of a lot better than it was several months ago. It won't be long, he says, before he feels comfortable enough to enter into a mixed martial arts training camp.
"I'm doing everything," Weidman explained. "My leg's not where I need it to be yet, to be happy going into the octagon against world class guys and think I can be the best in the world. It's not there yet just because of strength and a little bit of pain I'm still dealing in the lower leg while moving around.
"But it's progressively getting better and I think in the next month or two, I'll be to the point where I'm happy with it and then I can start like a pre-training camp. Get my body back into hardcore shape and see how the body deals with a camp. Like a mock training camp and then I'll get into it and then I'll probably call the UFC and try to set up a fight and get into a real training camp. I've been training hard."
Whatever happens, Weidman says that he is under no illusions that he is closer to the end of his career than the start of it — but be that as it may, the prospect of battling past this injury has given him extreme motivation to return.
"If I'm getting thrown around the gym and I see a decline in my skill set as time goes on, I'm not sticking around," he said. "I know a lot of people say this and I don't want to sound redundant but I'm just being as honest as I can. Not that I'm going to be fighting forever but right now it looks like my body's going to give me another chance at this and I know I can fight at the highest level.
"What's better for me than to create an awesome story? To motivate and inspire people. Everyone saw what happened to me, for me to come back and make a big splash, that really excites me. I'm pumped and I'm going to keep training hard."
Comments
comments