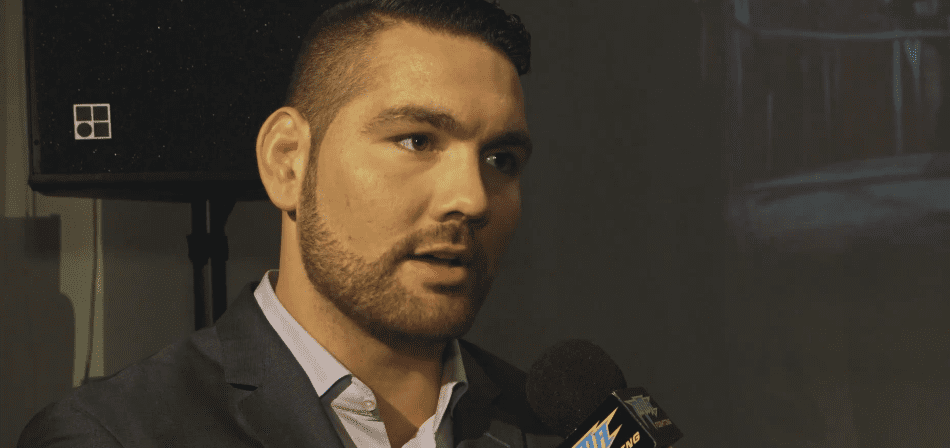 It's fair to say that Michael Bisping's run as UFC middleweight champion has been… unconventional.
After winning the title from Luke Rockhold back at UFC 199 in what was recently declared the Upset of the Year in MMA, Bisping went on to defend his title against Dan Henderson, a man unranked in the top ten of the 185-pound division.
Now, he is set to face off with Georges St-Pierre later this year, even though the Canadian hasn't fought for nearly four years and made his name as a welterweight. It's all a streak of luck that hasn't gone unnoticed by the Brit's peers.
"Listen, Bisping's got the golden horseshoe up his ass as champion," Chris Weidman said, speaking with FOX Sports. "This guy, I gave him the opportunity to fight for the belt and he made the most of it. He pulled the punch out and knocked out [Luke] Rockhold and became champion and since then he's fought the No. 14 ranked guy and then a guy that's on a three year long layoff.
"This one he's going to make some good money on so God bless him and his family but man, look at the guys I was fighting when I was champion."
"I went through the top of the top. I went against Anderson Silva twice, who at that point was debatably still in the prime of his career, had never lost [in the UFC]. The fight before me he beat the crap out of Stephan Bonnar. He didn't look like he was slowing down at all. I beat him twice.
"Then I get Lyoto Machida, who was on a big winning streak and was the light heavyweight champ and everybody thought was going to be the middleweight champ. He looked unbeatable at middleweight. Then Vitor Belfort, who was on a four fight winning streak, all knockouts. Then I had Rockhold. Then, this is some set up he's got going on as the belt holder."
At one point, it looked as if Weidman himself could have been a contender at Bisping's title himself. Had Weidman defeated Yoel Romero at UFC 205, he and the champion had gone back and forth enough times to garner a fair bit of attention.
But, despite those harsh words, Weidman has no ill-will towards Bisping.
"Good for him. I'm really not hating on him. It really is an amazing story. A Cinderella story what this guy did for his career," Weidman said. "I wasn't in the UFC too long but I surpassed him and became champion and he was in the UFC way longer than me and the same weight and had never fought for the title and I never thought of him as a guy who would be fighting for the title. He proved me wrong, he proved everybody else wrong. So good for him. It's an awesome story.
"He had loss after loss, would win a couple and lose and win a couple and lose and the next thing you know this guy's fighting for the title. It makes it all worth it. Good for him. He's going to make some money for his family. I will say I don't think he's going to be champion very long. He's already champion longer than I thought."
Comments
comments