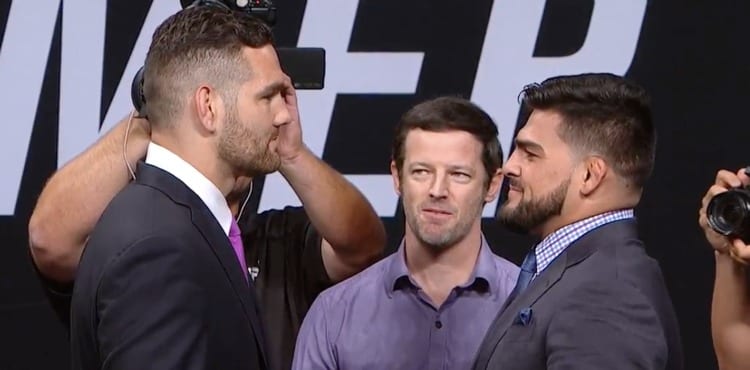 Earlier this year, it became clear that the next contender for UFC middleweight champion Robert Whittaker was coming down to a choice between Chris Weidman and Kelvin Gastelum.
While Gastelum had activity on his side, Weidman had previously defeated the younger man and as such felt he was in with a shout to meet Whittaker sometime later this year.
In the end, the UFC elected to put Gastelum in the title bout, and now he'll coach a season of The Ultimate Fighter opposite Whittaker before fighting for the belt when Whittaker returns from injury. As for Weidman, he'll meet Luke Rockhold in November when the UFC return to Madison Square Garden.
While he's happy to fight at home once again, the former champion isn't exactly too thrilled with missing out on a chance to fight for UFC gold.
"They were saying they couldn't depend on me with my hand. They were worried about my hand not being ready in time," Weidman said, speaking on The Ariel Helwani Show. "They were initially saying they were going to (have me) fight at the end of the year show, and I was telling them I'd definitely be ready. And they said they couldn't really justify putting money into the Ultimate Fighter show with the chance of me not being able to fight.
"It kind of pisses me off because there are a whole lot of things that can go wrong with any fighter, so for them to put me in that predicament pisses me off a little, but what are you going to do? I mean you got Gastelum who hasn't made weight, Yoel Romero hasn't made weight and Whittaker has been injured too."
"There's always things, it's not like I am the only guy … what can you do?"
Comments
comments