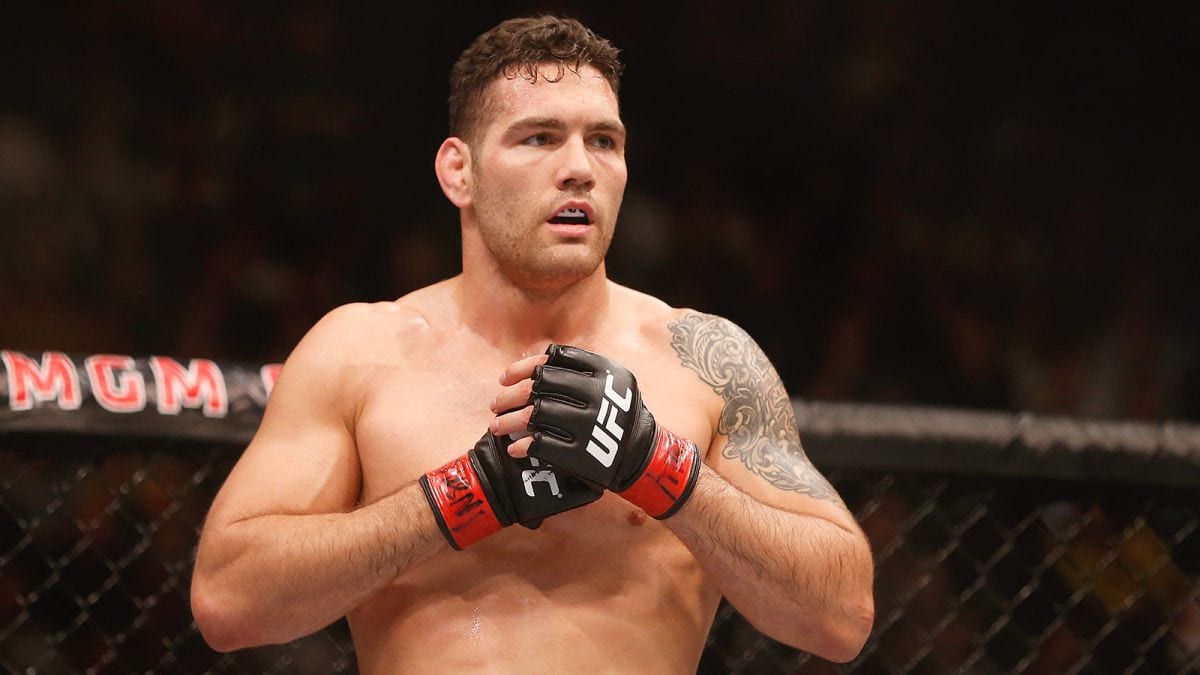 Former UFC middleweight champion Chris Weidman has given an update on his recovery from the brutal leg break he suffered in his UFC 261 fight against Uriah Hall. 
Weidman, 36, broke both his tibia and fibula early in the first round against Hall and was rushed to hospital for emergency surgery which, while being described as a success, still leaves the 'All-American' facing a prolonged journey back to full fitness.
In a video updating fans on his condition, Weidman spoke of the pain he is still feeling following the incident and described his fear at the possibility of requiring an amputation which, thankfully, doesn't appear to be necessary.
View this post on Instagram
"I figured this would have been kind of like other surgeries I've had in the past where the first three or four days kind of suck and then it just gets better from there but to be honest with you . . . the first three or four days were probably the best days I've had," Weidman stated on the Instagram video.
"Maybe the anaesthesia was still in me and the inflammation may have been helping with some of the pain because – how many days am I out? eight days out, something like that, from the surgery – after the three/four days, it was just super painful. I'm just literally sleeping all day. I was really trying not to take the oxycodone, I was just taking Tylenol and ibuprofen and then at certain points throughout the day I may have taken an oxycodone if I really needed it.
"The pain getting up to go to the bathroom or anything like that is so bad. When I have to go to the bathroom it takes such willpower and preparation mentally to get up because as soon as I start standing – well I don't stand on the leg but on my crutches – the blood just starts pooling by my shin and my foot and just it is definitely brutal."
He added that the continuing pain forced him to confront what he described as the worst-case scenario: amputation.
"I was pretty scared about this pain because I'm thinking about the worst-case scenarios," he said. "Worst-case scenario is that the blood supply doesn't come back to my bone and doesn't take which would mean possible amputation. I had that happen to my thumb after I fought Kelvin Gastelum. I had surgery for a ligament that tore after throwing a left hook on him and then about eight weeks after surgery they realised that the blood supply to that bone, it was such a concussive shot that the blood supply wasn't coming back.
"So they had to take my whole bone out and put my hip bone inside there because the bone was just deteriorating and dying. So if that happened to my shin bone, my tibia or my fibula, I don't know what would happen. Amputation, prosthetic leg, all that stuff.
"So that scares me and I'm praying and I'm positive it's not going to happen but that's a possibility. I spoke to a doctor about it and actually tibia's have the worst percentages of healing properly after surgery. It's not a bad percentage, it's like five percent, but that's scary.
"The other thing is I have numbness on the bottom of my foot and a few of my toes. It's tingling like they're sleeping so I don't have full control or the nerve isn't fully back with that. So that's a little scary as well. I've had 23 surgeries, this is my 24th and this is completely different in so many ways than anything I've ever dealt with. I've had neck surgeries and hand surgeries and every body part you could ever think of surgeries and this has been pretty brutal."
Comments
comments