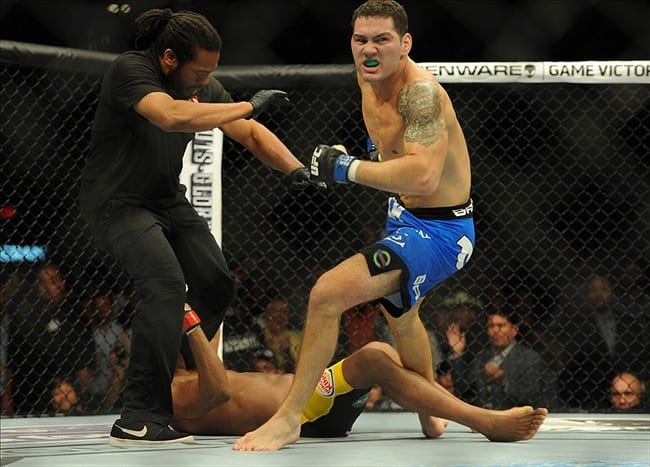 Chris Weidman truly became a star with a left hook on July 6, 2013, defeating Anderson Silva to win the UFC middleweight championship.
But, while the win earned him some credit, many fans pointed to the ludicrous amount of taunting Silva was doing as the 'real' reason for the Brazilian's loss. The rematch was booked, and Silva broke his leg in a freak accident after Weidman checked a kick successfully. Again, Weidman walked out winner, but again questions surrounded the victory.
Well, those questions were nearly answered, as fans were close to seeing a third contest between the two — only this time in Brazil.
Originally, Anderson was set to face Kelvin Gastelum at UFC 212 on June 3 this year, only for Gasteltum to fail a USADA test for marijuana. And, according to Weidman the UFC asked him if he fancied stepping on short notice to face Silva one more time.
"The UFC was asking me if I would fight Anderson Silva," Weidman said, speaking on The MMA Hour. "This was, I think three and a half weeks before that fight was [scheduled to be] going on. In Rio, and I'm just like 'no'. I was still getting things checked out on my body, and going different doctors.
"I had just gone to Vegas, got it all checked out. I already beat the guy twice, I'm going to take a fight on short notice and head to his hometown to fight him? I'm like 'yeah, that's not happening. If you want me to fight Anderson again if you want me [to] fight him, but [let's] bump it up a couple of weeks if you want to do it in Nassau, Colosseum or some other time, but I'm not going to do it on short notice."
In the end, the fight was completely scrapped and Silva was removed from the card and it was in fact Gastelum who scheduled to face Weidman. They meet at UFC on FOX 25 on July 22.
Chris Weidman says he was offered last-minute fight against Anderson Silva on #TheMMAHour pic.twitter.com/UvDGfgTMTk

— MMAFighting.com (@MMAFighting) July 3, 2017
—
Comments
comments