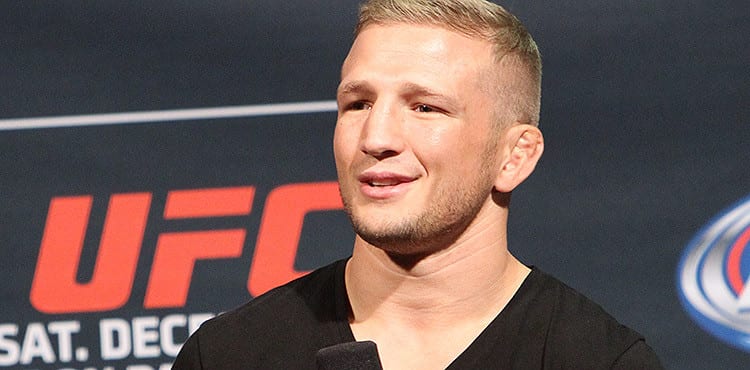 Former UFC bantamweight champion T.J. Dillashaw has kept something of a low profile since relinquishing the 135-pound title in advance of a public announcement that the two-time champion had failed a drug-test for banned substance EPO. 
In the days after the news was made public and details of a multi-year ban were announced, Dillashaw made a public announcement via his Instagram page in which he uttered some sort of 'mea culpa' for his actions. However, speaking to Chael Sonnen on his 'You're Welcome' podcast Dillashaw once again opened himself up for criticism as he appeared unrepentant for his actions.
"To begin with, I cheated," Dillashaw said to Sonnen (transcription by Fansided). "I don't want to create any excuses, and that is why I admitted directly. I wanted go down one weight class to 125 lb and fight Cejudo, and I overestimated how difficult it would be. So I pushed my body extremely until I started crashing."
That fight — Dillashaw's quest to drop down to the flyweight division to capture Henry Cejudo's 125-pound title — ended just over 30 seconds into the first round by virtue of a Cejudo flurry of punches. Dillashaw's goal of holding both the flyweight and bantamweight titles has since been achieved by Cejudo.
"I don't regret it," Dillashaw continued. "I choose to take something I knew that was forbidden. I do not regret what I did, because I do not think I could have fight Cejudo otherwise. Then I got caught, and it was really painful. Then it is hard not to hate yourself a little bit."
Dillashaw will not be eligible to compete inside the octagon until January 2020 when he will be 35-years-old.
Comments
comments