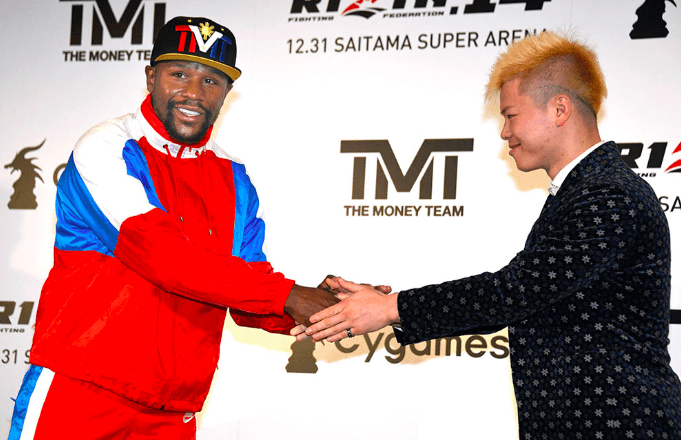 When Floyd Mayweather announced he was fighting Tenshin Nasukawa on New Year's Eve, fans were surprised. When he announced about 72 hours later that he in fact wasn't going to be competing in RIZIN, it was even more confusing.
According to Mayweather, he was brought on stage by the Japanese promotion and suddenly surprised with a fight announcement. For some, that's a reasonable explanation. For others, it sounds like some typical Mayweather trickery. For Chael Sonnen, it's irrelevant what the real reason is — Mayweather comes out looking bad.
"Huge miss here by Floyd Mayweather," Sonnen said, speaking on Ariel and the Bad Guy. "He has brought down his brand. Very normal trajectory of a fighter's career: you start out fighting at the YMCA, you move on to the dog park, you get into a coliseum, on your way out you go back to the YMCA, and then you finish up at the dog park. That is what this appeared to be for Floyd from jump street.
"The only thing more embellished than Floyd Mayweather's pay-per-view buys is Floyd Mayweather's net worth. But his spending habits are real. We know he has to fight again but the fact that he would go and offer his services in a stunt fight over in Japan under "yet to be specified rules," this is very bad for the brand. And for him to try to unwind that and the come back to America. Look, it's tough and Floyd stubbed his toe on this one."
And according to Sonnen, Mayweather's big mistake was anticipating a huge surge to see him compete once again, when in actuality, fans have accepted the undefeated boxer's days are behind him.
"It was a tremendous mistake," Sonnen said. "The retirement just so you can use that to market the comeback. You can never have the comeback if you don't have the retirement. Floyd knows this, Floyd tries to copy this, but Ariel, the one miss that he had, the ingredient that has to be there if you're going to pull a stunt like this . . . it has to be at a time when people all come out saying, 'Why?! Why would you retire? You're so good! You have more left!' When you retire at a time when people are looking at you going, 'You should retire,' you can't get that feel, you can't get that buzz back.
"This is what happened to Floyd. When Floyd went in there and boxed Conor, what was happening was the greatest of a generation took on an amateur, and when it took 30 minutes to get the amateur out of there, it was easier for the boxing world to go, 'well yeah, but he was retired anyway.'"
Comments
comments