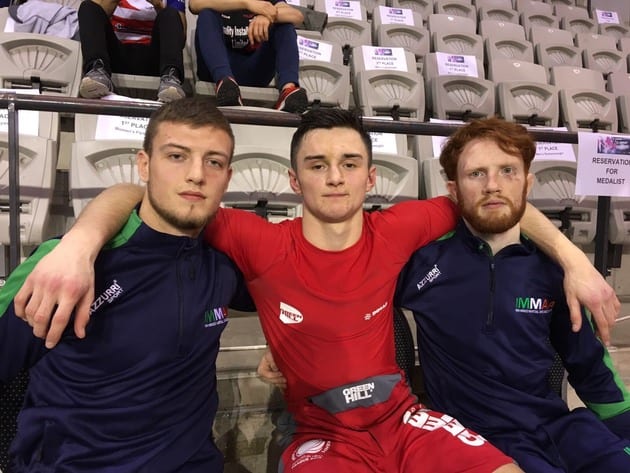 One of Ireland's top MMA prospects, Lee Hammond, is among the favourites to take home gold in the lightweight division of this year's International Mixed Martial Arts Federation (IMMAF) World Championships in the Kingdom of Bahrain.
Hammond (pictured above, centre), who is among the Brazilian Jiu Jitsu coaches at SBG's HQ in Dublin, is part of the Irish contingent who are en route to Bahrain ahead of the IMMAF World Championships, a country versus country showcase for some of the world's best amateur mixed martial artists.
Now competing in the tournament for the third time, Hammond compiled a joint 7-2 record in his previous two attempts at the gold and now with injury issues firmly behind him, the Dubliner is poised to make another run at the most prestigious prize in amateur mixed martial arts.
Leaving for the @immafed World Championships in Kingdom of Bahrain ✈️ 🇧🇭 Big thank you to Authentic Car Sales for their continued support I am truly grateful. Thanks also to my family, friends, team and coaches for all their help in preparation. pic.twitter.com/ha2iwhnxdd

— Lee Hammond (@LeeHammond96) November 9, 2018
The 2018 iteration of the tournament is expected to be the most successful since the organisation was formed in 2012. 248 amateur athletes competed last year, a figure which will be exceeded this year.
The competition is considered in some circles as a proxy for mixed martial arts as an Olympic sport, as IMMAF have similar practices to how the International Olympic Committee may adopt if they heed the calls to one day add MMA as an Olympic sport.
Ireland, and in particular SBG, has had a strong showing at recent tournaments.
Frans Mlambo won gold in 2015 in the featherweight division, while Sinead Kavanagh took home silver in the women's featherweight division in the same year.
"It really felt like the Olympics, from the airport welcomes and opening ceremony to the national participation and coverage, through to the closing ceremony and awards," MMAF President Kerrith Brown said of the 2017 championship.
"The level of medical care was unparalleled, and our hosts were generous too in the entertainment they laid on for athletes no longer in competition – from trips to the local camel farm to Wahoo water park. We very much look forward to developing our working relationship with Bahrain in preparation for a much anticipated return in the final quarter of 2018."
The tournament will begin on November 11.
–
Comments
comments