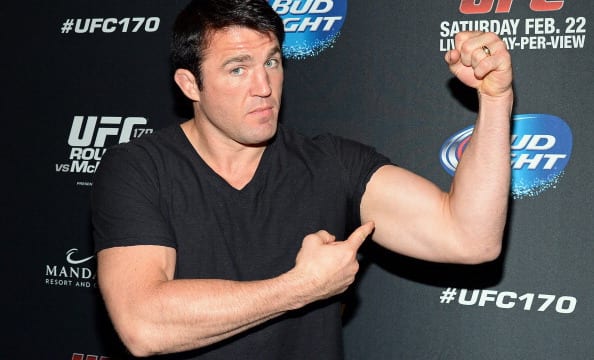 Chael Sonnen is throwing his hat into the ring for a match-up with Oscar De La Hoya.
De La Hoya has announced his intention of coming out retirement for a bout with social media app/promotion Triller later this year. The boxing icon, who has been a figure of controversy over the past few years, was apparently in talks for his opponent to be MMA legend Georges St-Pierre, only for UFC president Dana White to block the contest from happening.
White and De La Hoya have been embroiled in a public feud since 2017, when De La Hoya asked fans not to purchase the Conor McGregor vs. Floyd Mayweather pay-per-view. After White's involvement, De La Hoya took to his social media to challenge White to a boxing match for the right to let St-Pierre compete.
"Quit blocking @GeorgesStPierre's chance to fight," De La Hoya wrote on social media. "How about we get into the ring first little B*#ch then after I kick your ass, I'll fight a real man #DeLaHoyaGSP #LetGSPFight"
While White hasn't responded to the comments directly, he did dismiss Triller's repeated attempts to converse with him following the last UFC 262.
It seems, however, that White has someone willing to take up the mantle — a certain American Gangster.
"Oscar De La Hoya has challenged Dana White to a fight," Sonnen said in a video on his social media.. "Now he's challenging Dana to try to get to one of Dana's guys. That's not the way a dojo works, not for nothing. You got to go through one of the guys to get to the guy. Oscar tried to do it in reverse.
"Oh by the way, speaking of going through one of the guys to get to the guy. I saw the date of that proposed fight, Oscar. I checked my calendar. I happen to be free."
I checked my calendar Oscar…

For the best CBD products on the market, visit @cbdmd.usa Order online at https://t.co/1tMjif0QtL Save 20% with free shipping with promo code: BADGUY #sponsored #BadGuyInc pic.twitter.com/FDiXJQEnPy

— Chael Sonnen (@ChaelSonnen) May 25, 2021
–
Comments
comments