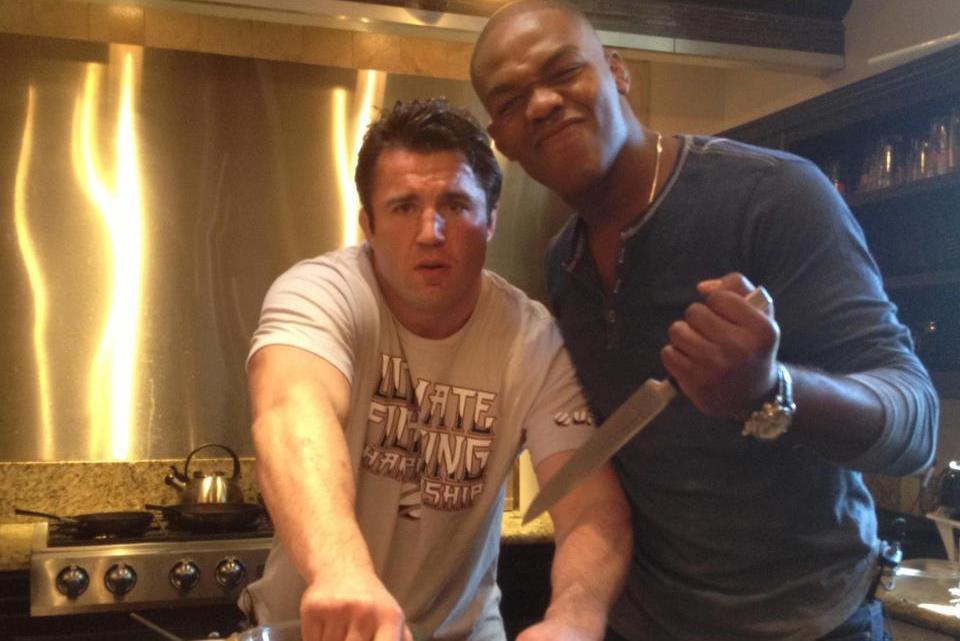 When Chael Sonnen stepped into the cage with Jon Jones at UFC 159 in 2013, he was considered by the vast portion of the mixed martial arts community to be the heavy underdog.
Despite that, the self-proclaimed 'American Gangster' disagreed. Certainly Jones was the bigger and younger man, but Sonnen had doubts about the then light heavyweight champion's grit and heart when coming under fire.
It took less than ten seconds for Sonnen to realise he'd made an error of judgement.
"I really thought I was going to beat him," Sonnen said, speaking on The Dan Le Batard Show. "He's a lot younger than me, and some people were going, 'Well, there's a youth advantage' — man, this guys a little kid, I'll push this guy around. And we got in there, we locked up and right off the bat I remember within about five seconds into the fight my back was against the fence, he pushed me against the cage. I remember trying to move and saying, 'Boy, I got to change some strategies here and I don't have another strategy, I did not know this was going to happen'.
"Strength can be a problem. And he got on top, you got to remember, he [hit me with an] elbow and I didn't know where I was. I came to — which I think was about a millisecond later, but when you lose track of time could be a day later — I came to and I'm looking around and I'm thinking my goodness is anyone going to help me?
"It was that kind of debilitating. I've never lost a fight in my life, and this includes a wrestling match since I was nine years old, where I didn't want a rematch. Gimme another shot, I can get closer or I can beat the guy, shorten the gap. I got done with Jon Jones: young man go enjoy your run, I'll be in the corner."
So dominating was the loss, in fact, that Sonnen never even studied the tape to see what went wrong — a break from his usual tradition.
"My coach and I didn't even discuss that fight when it's done," he said. "Every fight you sit down with your coach, you break the fight down, we never even discussed Jon Jones. We got our bags and we left the arena.
"But he was a special talent and I feel I owe that to him for sharing the ring with him, I owe it to tell the story the way it happened. He was special."
Despite his candor, some fans might be surprised to hear Sonnen say he was so confident entering into the fight. At that time, Jones was nigh unbeatable inside the cage, and while Sonnen was a game fighter, would likely be seen as a level below the champion. According to Sonnen, however, being at close parameters with Jones during the filming of The Ultimate Fighter  simply left him feeling Jones wasn't working hard enough.
"In this sport, and it probably wouldn't surprise you to hear me say, it's really whoever wants it the most, whoever works the hardest," Sonnen said. "Who wants it in the gym? I went through something called 'The Ultimate Fighter' with him, which is known as a reality TV show, but it's really a training camp. You're at the ultimate facility, great training partners and coaches, I trained everyday, twice a day never missed [a session].
"Saw him every day. He was so drunk, he was so hungover, one time he fell asleep in the Octagon and they filmed him, he was snoring he was so drunk. And I thought this guy simply can't keep up with me. He doesn't want it, he's not focused, he won't be in shape.
"He kicked my ass. It was one of those things, 'Hey, two plus two is not equalling four in this situation'. And that's just what happened."
Comments
comments