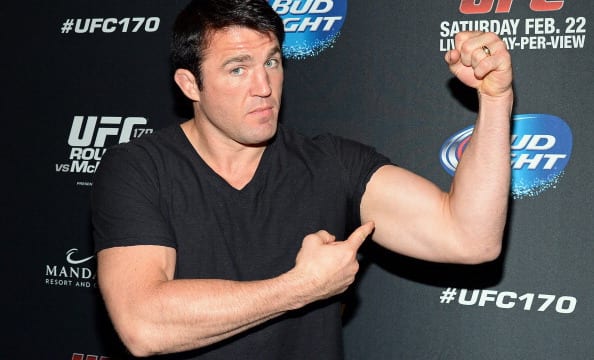 The topic of a Chuck Liddell return to mixed martial arts competition has been one of 2017's more discussed stories. It has bubbled over since Liddell's release from the UFC front office last December and intensified when Liddell posted a picture of him (in excellent shape) wearing his trademark blue fight shorts. Then came the comments.
'The Iceman', even at 47-years-old, maintains that he has a "puncher's chance" against anyone while John Hackleman, Liddell's longtime coach, apparently seems open to the idea too.
Liddell's destination should he decide on a comeback is purely speculation at this point but the first name that pops into most heads is Bellator. While housing a roster of some of the world's top fighters, Scott Coker has also promoted bouts featuring some of MMA's more vintage figures like Ken Shamrock, Royce Gracie and Kimbo Slice in recent times and Liddell, the UFC hall of famer, would appear to fit that bill too.
And now it seems like a feud is brewing between Liddell and one of Bellator's top stars.
In recent comments, Liddell said that Chael Sonnen "ain't going to take me down and lay on me" when asked to comment by the media about a potential bout between the pair.
Sonnen, 40-years-old, is 1-1 since signing with Bellator and a top star in the organisation as evidenced by his top billing in Bellator's recent trip to Madison Square Garden.
Well, Sonnen has addressed the rumours of a bout with Liddell on his You're Welcome podcast (via MMAFighting).
"I got called out on TMZ – I don't know if it's a call out, but I'm using that term – by Chuck Liddell. He said, 'Chael Sonnen would be a perfect warm-up fight' for his comeback. TMZ got ahold of me to respond. I never miss big media opportunities and TMZ is huge but this one I just sat it out," Sonnen explained.
"First time ever I've told TMZ I'm gonna pass on the interview because I didn't know what to say and I still don't, other than the truth: I will fight you right now Chuck. This was my idea. I'm the one that suggested you come in on my legends ass-whipping tour and be my crowning moment. That's the truth. Chuck does not have a contract with any organization. Bellator would sign him and would make that fight and did sit down with him and told him that but he didn't sign. Instead, he went back to TMZ and pretended he wanted the fight.
"Chuck, the answer is yes. You're the one that said no, you're the one that said no a second time, you're the one that's pretending you want the fight. I'm fine with all of it, but I don't know what his endgame is. It's not like he's got sponsors, so he's trying to keep them out there. Who's gonna sponsor him, some rehab clinic? It's Chuck Liddell. This isn't 1994 when the guy had a little bit of glory to his name."
Comments
comments