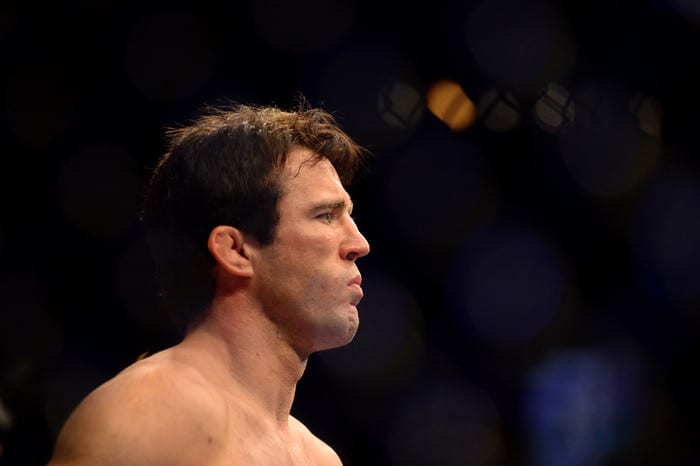 Chael Sonnen's back and forth feud with Chuck Liddell took a sharper turn yesterday.
According to Sonnen, who meets Quinton 'Rampage' Jackson in Bellator 192's main event this weekend, the pair met in person yesterday backstage at a television taping. It did not go well.
"I spoke to [Chuck] yesterday," Sonnen said, speaking with media after an open workout. "I was on the Rich Eisen show and I come in the dressing room and there was Chuck. And it was heated. Face to face, and it was awkward. I was doing Eisen and he told me 'you got a message for Chuck? He'll be here tomorrow'. So I gave a message to Chuck, thinking he would be there tomorrow, turns out ole' Chuck was in the back watching it on a monitor with my mother.
So my mum and uncle had to get involved, and it was just a big, colossal — I had to go one way, and Chuck had to go the other and it was weird."
Sonnen has been calling for a contest with Liddell — who hasn't fought since 2010 — when it seemed Liddell was back in training and considering a comeback. While the fight looked as if it might be made, nothing ever came to fruition and Sonnen (who had been making some of his trademark incendiary comments) backed off. Liddell, it seemed, didn't forget.
And while the pair didn't come to blows, Sonnen said there was enough heat there that they could have.
"I don't think there's anything there, I don't think he's going to fight again,' Sonnen said. "I didn't ask him point blank, because we were too busy yelling at one another. He looked good, I'll give him that. He looked like he was in shape, but I don't know. I don't know what he's going to do. I'm up for it right now. I'm ready to go right now. I was ready to fight him yesterday in the green room. Would have reached right over my mother.
"He was not pleasant to talk to,  but he did look good. He looked like he was in shape."
"Here's the thing with Chuck," Sonnen continued. "Chuck is seemingly a very nice guy, everyone I talk to that knows — he's seemingly gentleman. But he came through the competition era. We're in the entertainment era. And some of those guys, you know, they get offended a little easier. Or the table they helped set — and he did in fairness — has changed. And they feel like it changes their legacy, and they feel left out. And he was just pissed, what am I supposed to do? F' him. Let him be pissed, what do I care about Chuck's feelings."
Comments
comments