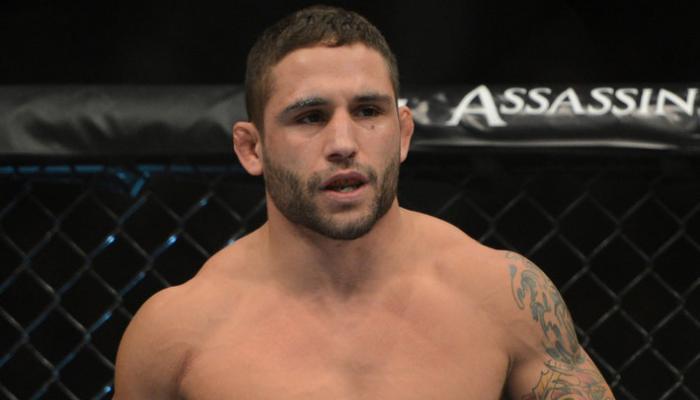 On June 10, former featherweight title contender Chad Mendes will be eligible to return to competition after completing a two year suspension from the UFC's anti-doping agency partner USADA.
Mendes failed a drugs test for the banned substance GHRP-6, which he believes was contained in a skin cream he uses to treat psoriasis. Unfortunately for him, Mendes is well aware that once the stigma of being a cheater (particularly in using performance enhancing drugs) is attached to a fighter, it's not easily removed.
"It sucked," Mendes said, speaking on MMAFighting's The MMA Hour.  "I don't ever want to be remembered as someone who was trying to cheat or use steroids or anything."
"It was my mistake. I got a product that was used for my my psoriasis, I didn't pay attention there was a peptide in it that was on USADA's banned list. I've been drug tested, randomly drug tested a bunch of times before my fights and I've never had any issues and I've been drug tested randomly a bunch of time since then and never had any issues. It was never a question of me trying to cheat or anything, It was just a mistake, I messed up, obviously I'm being tested by USADA and boom. I used it, I didn't pay attention, and that's basically the bottom line."
While some fighters choose to challenge USADA rulings if they believe they have been taking banned substances unintentionally, Mendes elected to accept the suspension and stay quiet. Simply put, he says, he didn't think he had much of a case.
"I probably could have gotten less time off if I had fought it," he said. "But like I said, I was just at a time in my life where I was really burned out with the sport, and I'm thinking, is this time I need to just step back and chill out on getting punched in head for awhile. I just listened to it and I didn't try to fight it or do anything. And I think that right there kind of pissed a lot of people off: 'if you're innocent, why don't you fight it?' but it wasn't about being innocent or not. I was taking the stuff and the stuff was in what i was taking. If you look at the ingredients, yes, it's right there. So, I'm not going to say I wasn't, because I was taking it. But it wasn't something that I knew was on the banned list or obviously I wouldn't have done it, because I'm being randomly drug tested all the time now."
With all that in the past now, the Team Alpha Male stalwart is trying to find some positives in the situation — namely using the time away from the cage to rediscover his passion for fighting.
"I was getting a little burned out with just a lot of the things in the fight game," Mendes said. "Just the politics, doing all the media, the weight-cutting, getting punched in the face. You know? There was a lot of it, that, it was just kind of, I don't know. I felt myself getting burned out. So I feel this time off has been really, really good for me.
"There's a new desire. The fire is lit again and I'm feeling great, I'm nerding out in my training camp and getting really specific on things. It just feels good just to have that fire again. It makes me want to get in there and want to train and and push myself to the limit and do everything you need to do. It's been great man, I'm excited."
–
Comments
comments