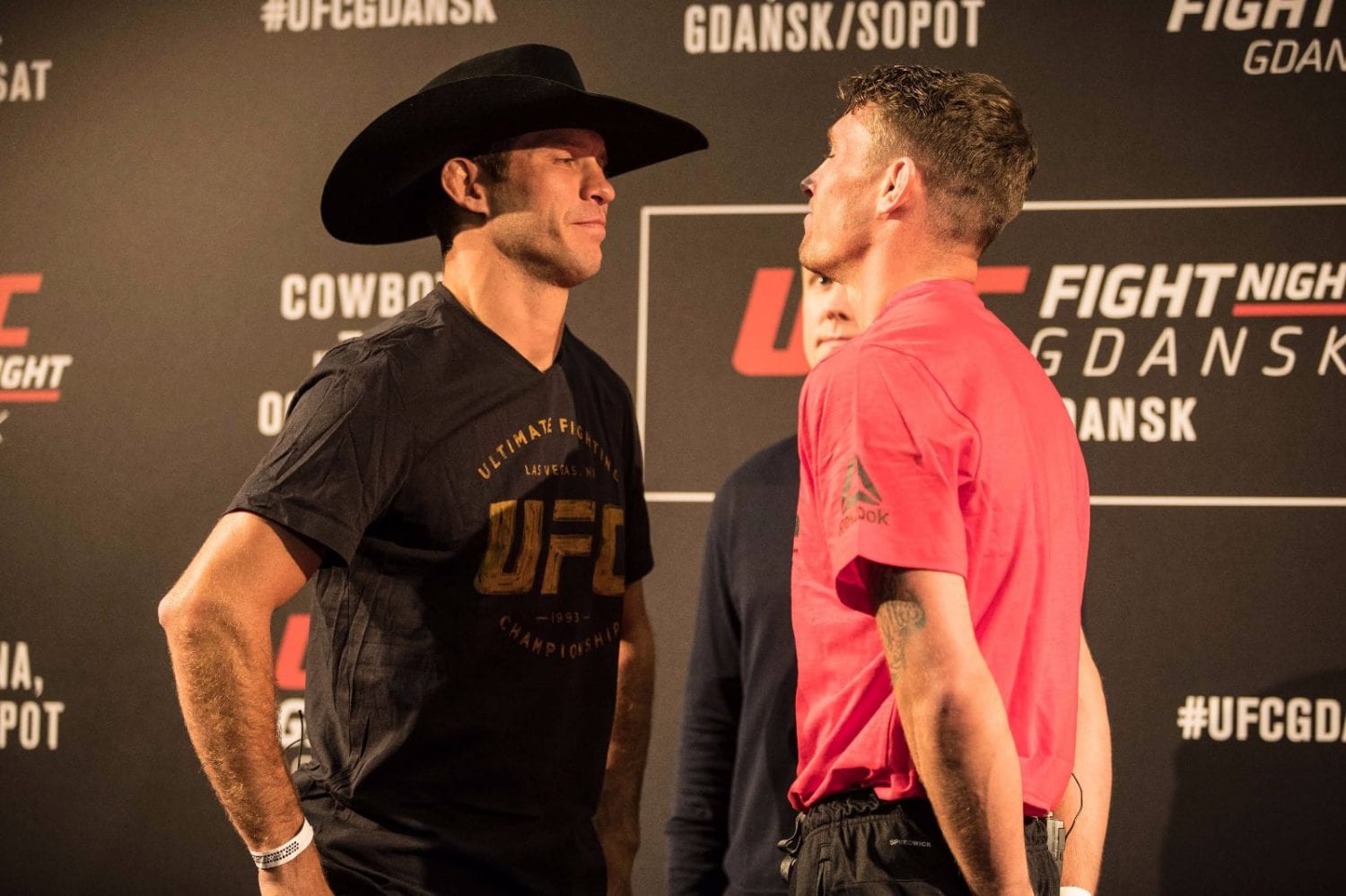 Four fights into his UFC career, Darren Till is still something of an unknown quantity to many in the welterweight division.
A shoulder injury suffered in his second UFC bout with Nicolas Dalby two years ago led to an extended absence from the cage and now, with the injury fully healed and two further wins under his belt, the Liverpool native has been handed his highest profile UFC assignment yet.
In Donald Cerrone, Till faces a fighter who is chasing his 20th UFC victory — a figure which would leave him tied with Michael Bisping for the most wins in the organisation's history. But even against one of the sport's most experienced fighters, Till says that the fight will take place on his terms.
"The last guy, they said [he would push the pace]," Till said to TheMacLife.com at the UFC Fight Night 118 media day in Gdansk, Poland.
"They said that I was going to have to deal with the way he comes and that he throw combinations and brings fighters into his own pace. No fighter I have ever met has brought me into their pace, I bring fighters into my pace. I will continue to do that, it doesn't matter who they are.
"Cerrone in the first minute is going to try and push the pace with me. It ain't gonna happen. I'll bring him into my pace, I'll fuck him up."
Till's early mixed martial arts career began with 12 successive victories, all of which took place in his adopted home of Brazil. Ten finishes in those formative bouts signposted him as being one of the biggest 170-pound prospects in the sport but Till knows that in order to keep your head above water in one of the UFC's most competitive divisions, you must constantly seek improvement.
"I'm always evolving," Till continued. "I'm smart enough to know that in the MMA game you have to always be evolving, always trying to evolve your skillset in the areas that you need. Right now this camp this camp has been focused on the finish, a lot of combinations and putting those combinations together because when I catch someone, the chance are they are going down. I need to follow up with that and then the fight is over. It's goodnight."
Till's opponent this weekend, Donald Cerrone, claims that he had never heard of Darren Till before being paired with him in the UFC Gdansk main event but, as Till explained, his place high up the card has been earned over a lifetime of combat.
"How many fighters have four fights in the UFC and go on to main event against a guy like Donald Cerrone? Not many. I've took a big step but I'm ready for that big step. People think that just because I'm 24 and I've only have 15 MMA fights, they forget that before that I've had millions of muay thai fights. I've got the experience, I'm ready."
A win for Darren Till on Saturday evening would propel him towards the position of the UFC's next British superstar and, once Saturday's business is taken care of, he says that his next career objective is to bring the UFC to his hometown of Liverpool.
"That's the only goal I have. On Saturday, there's a goal to knock Cerrone out and then after that we need to be in talks with the UFC to bring it to Liverpool. At one point it was going to come because of my teammate Terry Etim but it never happened. Right now with the momentum I've got, it definitely needs to happen. It's something that the UFC really needs to consider."
Image by Dave Fogarty
Comments
comments