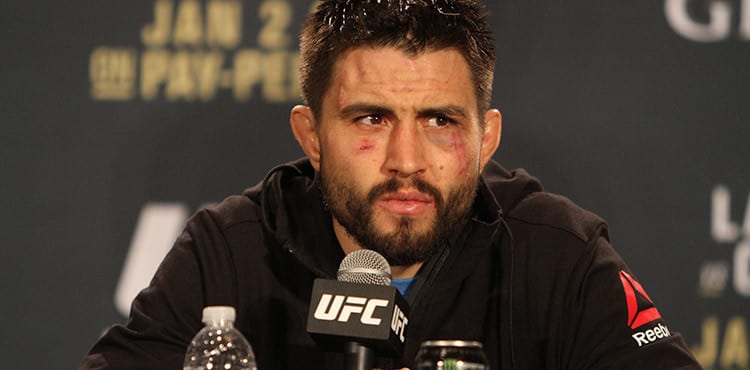 On a long enough timeline, this game will catch up everyone. 
Carlos Condit returned to action last weekend at the UFC's event in Glendale, California, where he was defeated by second round submission in the co-main event against Alex Oliveira. It was the Natural Born Killer's second defeat since returning from a year plus layoff last December, and his seventh defeat in his last nine contests.
Now 33, the former interim UFC welterweight champion is apparently questioning his long-term status in this most demanding of physical sports. In a lengthy post to Instagram following his loss last weekend Condit admitted that thoughts of retirement are weighing on his mind, though that his love of the sport remains unbroken.
"I had fun," Condit remarked. "I trained my ass off and I came to fight. This is what leaving it all out there looked like on Saturday. Much respect to my opponent and his team. Thank you for taking the fight on short notice. Congratulations and best of luck in the future.
"I don't know what's next guys… I still love this game, and most days I still feel that fire, I absolutely love what it do, but maybe my time has passed. I don't know the answer. this is what I know, this is my passion. I will never stop training, and If that leads me back to the the octagon, you know I'll try to make it bloody for ya."
It is most certainly worth nothing that Condit's recent list of opponents reads like a who's who of 170-pound royalty — Maia, Lawler, Woodley, Hendricks, St-Pierre. It would be unfortunate for Condit, one of the division's most exciting fighters, to walk away from the sport without showcasing his skills on at least one more occasion.
His original opponent last weekend, Matt Brown, suffered a knee injury in training for the bout. How about we let them both heal up and finally get to see these two like-minded opponents inside the same cage? At minimum, it would be a fitting sign-off for both of them as their careers wind down. At best? We're talking a potential fight of the year candidate.
Comments
comments