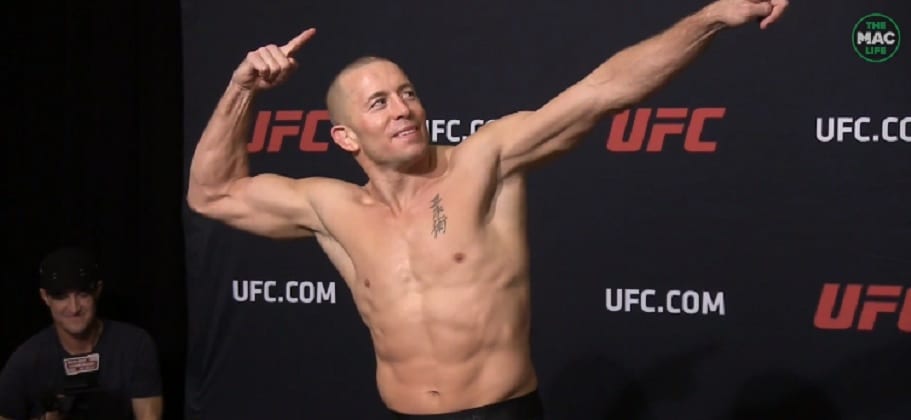 Georges St-Pierre lost just two times in a distinguished mixed martial arts career which saw him claim a record-breaking run at welterweight and another championship at middleweight in his final career fight, but says that no one fighter can be considered 'unbeatable'. 
St-Pierre had few equals throughout his career (unless your name is Matt, perhaps) but says that as he gained experience throughout his career he realised that the idea of being the world's best fighter which was once his primary motivation was little more than a fool's errand.
"It's just a matter of timing," St-Pierre explained to ESPN. "Everybody can beat anybody on any given day. There are guys that have your number – you don't know why. (But) they have your number. In the fight game, it's not a straight line.
"When I was young, I wanted to be the best of all time," St-Pierre added. "But when I got older and had more experience, I realised it's just a fugazi – it doesn't exist. You can't be the best guy on the planet. There's always one guy that will beat you. … There's guys better than you who maybe are not fighting. That's how the world works. There will always be one guy that will have your number, and he will beat you. There's no [best] guy."
This may come as something of a surprise to some, given that St-Pierre is widely regarded as the finest welterweight fighter in history and ended his career with a decade-long unbeaten run, all topped with a submission win against Michael Bisping inside Madison Square Garden in 2017.
Still though, one must only look to his defeat to underdog Matt Serra in April 2007 as an example of how bookmaker odds don't always predict the correct outcome of a fist-fight.
GSP, who turns 39 this week, also referenced plans for him to come out of retirement more than a year ago to fight Khabib Nurmagomedov but said that the UFC were ultimately uncomfortable with the idea for fear that he would defeat the Russian and promptly vacate the title and once again slip way into retirement.
Comments
comments