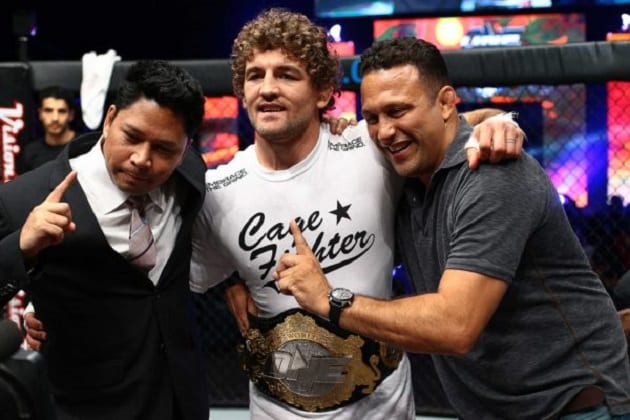 Ben Askren, one of the most dominant fighters to have never appeared in the UFC's octagon, may still get his chance in the world's largest mixed martial arts promotion.
Askren last competed in November of last year, defeating Shinya Aoki via strikes inside the first minute to take his undefeated professional ledger to 18-0-1, and announced his retirement afterwards. However, he did leave the door slightly ajar for a return if he was to fight "the best in the world".
There is one problem there. Tyron Woodley, the UFC's welterweight champion,  is a close friend of Askren and both fighters have ruled out facing each other in the cage. Luckily for all concerned, there is a lengthy list of contenders who would be interesting tests for Askren.
Speaking to the UFC Unfiltered podcast recently, UFC president Dana White intimated that he would be interested in talking to Askren — so long as he's legally able to do so.
"Ben Askren is under contract," White said. "Ben Askren hit me up a few months ago and said, 'What are the odds we can talk about me getting into the UFC? And I said, 'We can absolutely talk about it.'
"And I said, 'You need to send me a letter before I even talk to you, or meet with you, or do anything. I need a letter saying that you're a free agent and that you're able to…whatever. And he's not a free agent. He's not a free agent. He's under contract with ONE FC, and he's gonna have to go fulfill his contract with them."
Comments
comments