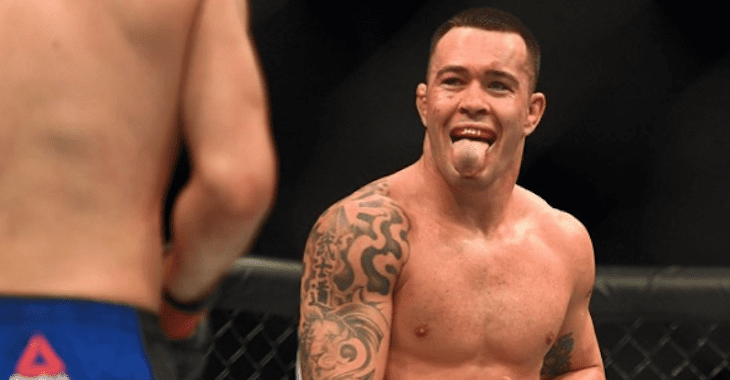 Colby Covington has issued a distinct 'I told you so' following Gilbert Burns' unanimous decision victory against Tyron Woodley last weekend.
The brash Covington had long inserted his name as a potential opponent for the fighter he described as 'Tyquil' Woodley but said that he wasn't surprised by what many are saying was a disappointing performance from the former welterweight champion as he was solidly outpointed through five rounds inside the UFC Apex facility in Las Vegas.
"Let's start off by having a moment of silence for Woodley's career," Covington said to Submission Radio (transcript by MMA Fighting). "Hold on just one second. Moment of silence, (pours liquid out of his coffee mug onto the floor). That's Woodley's career going down the drain. Just like I told you guys, he's washed up. He don't want to fight no more, he's TMZ Woodley. He's out there rapping making songs about me, hurting people's ear drums.
"Who called it? I said he's washed up. I said he's 40 years old. He's a 40 year old virgin. He doesn't want to fight anymore. All he did was show up for a paycheque, so I figured we'd have a moment of silence for him and I'd pour out a beer for his career and just like his career, it went right down the drain."
View this post on Instagram
Covington and Woodley were expected to meet last year while Covington was the interim UFC 170-pound champion but Woodley instead faced Darren Till when injury prevented Covington from competing. Woodley defeated Till by conclusive second round submission.
It now appears that a fight between Woodley and Covington is unlikely in the near future, but Covington suggested that this was Woodley's plan all along.
"In my opinion, business goes on," Covington said. "It sucks. I built that fight for three or four years. I was begging to fight that guy on five days' notice because I know how washed up he is. He never wanted to fight me, plain and simple. Even when he was the champion and I had the interim title, he was begging to fight lightweights, he was begging to fight anybody but me, and I'm the first guy to scare the champion into elective shoulder surgery.
"The guy's been scared of me since day one. I think people just found out how much I am a man of my word. Every time I say something, it's the truth. Maybe it's the brutal, honest truth, but it's still the truth. He ducked me his whole career and that's that. He can go and know that he was a coward. He didn't want to fight the best guys in the division.
"The thing is, he's happy now. He got these two losses out of the way and he got these paycheque, but you know what? Woodley didn't have to lose to me so he can ride off into the sunset and go to his retirement home and be happy that he doesn't have to deal with the psychiatric (treatment) that he would have had to deal with if he would have had to fight me. So he's thankful and he's lucky. He dodged a bullet."
Comments
comments