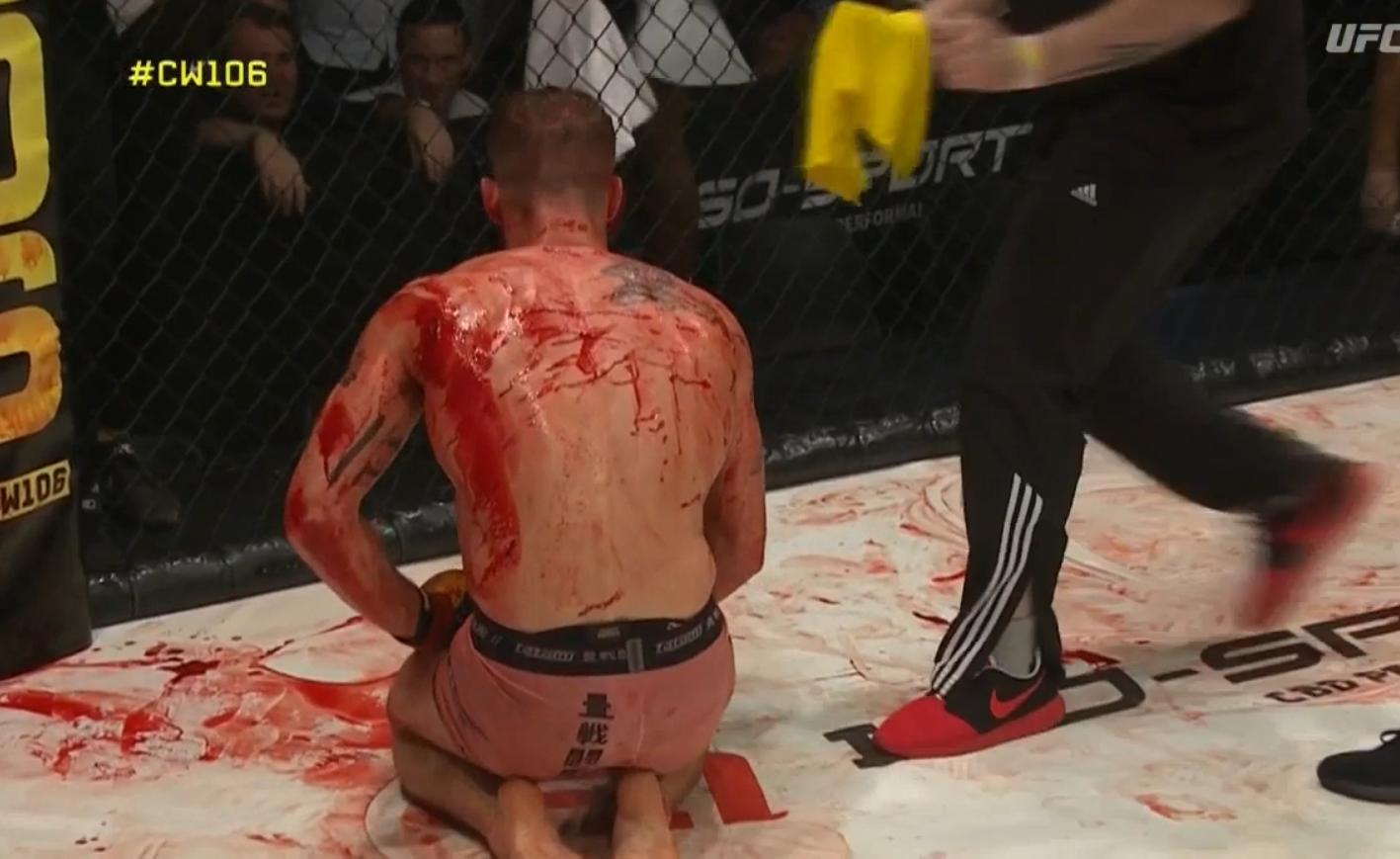 Blood is a part of combat sports. When two athletes swing limbs towards each other, cuts frequently happen, and when they do, they're usually dealt with by cornermen before the action continues.
Occasionally, a cut can happen that — should it be located above the eye or be too deep — can cause the referee or a ringside doctor to bring a fight to an end. Tonight in London at Cage Warriors 106, however, we saw a first in mixed martial arts: a fight being stopped due to the canvas being soaked in blood.
It happened in the main event of Nicolas Dalby vs. Ross Houston, when in the third round as both grappled on the floor, the amount of blood coming from cuts meant neither man could get to their feet due to slipping on the mess. After one particularly unstable exchange, referee Marc Goddard to rule the fight a no contest, saying he was concerned about the fighting surface.
Check out the gruesome scene (as found on Twitter) below:
We are all winners tonight #CW106

The referee and medical officials have called a stop to the action before the end of round 3, declaring our main event a No Contest. pic.twitter.com/ireRWC4KAt

— Cage Warriors (@CageWarriors) June 29, 2019
This is insane lol #CW106 pic.twitter.com/iJSuahewRf

— ShayMyName (@ImShannonTho) June 29, 2019
The crime scene #CW106 pic.twitter.com/Ul76c9QIQc

— caposa (@Grabaka_Hitman) June 29, 2019
Dalby has a gash on his forehead. Houston's nose is busted open. Just a mess. #CW106 pic.twitter.com/fI3hzWnItK

— caposa (@Grabaka_Hitman) June 29, 2019
ABSOLUTELY CRAZY FIGHT! Goddard stops the fight and declares it a NC. #CW106 pic.twitter.com/6lRDX022ec

— ShayMyName (@ImShannonTho) June 29, 2019
–
Comments
comments