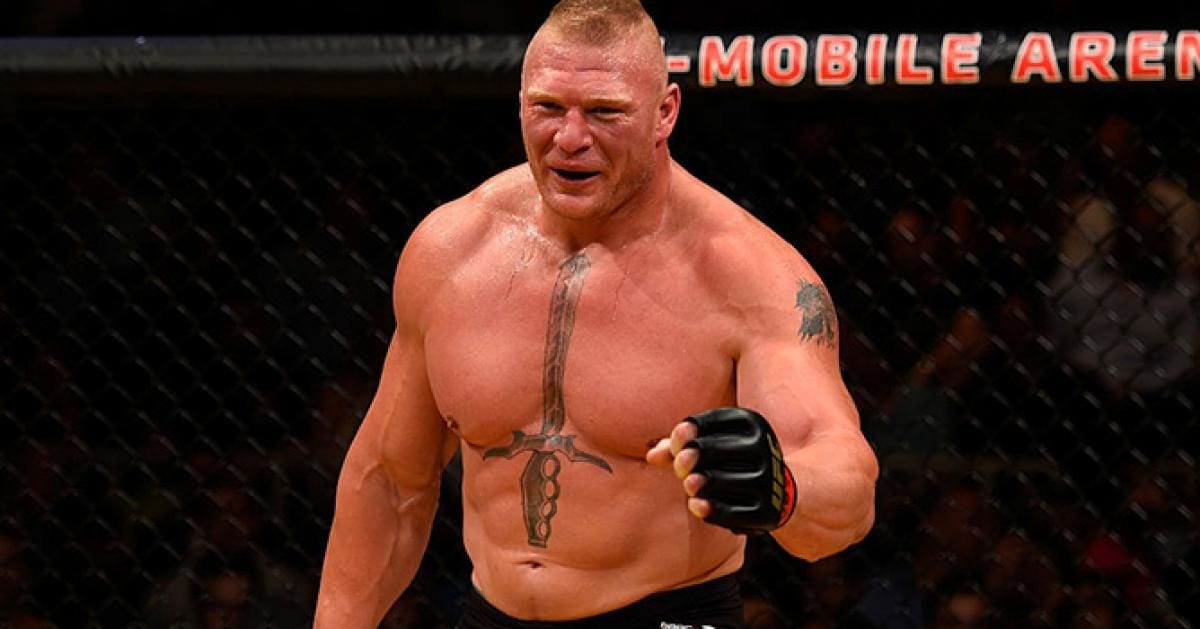 He is arguably the most infamous champion in UFC heavyweight history but Brock Lesnar says that it probably should have translated to a few more bucks in his bank account.
Lesnar became an instant star attraction when he inked a deal with the UFC as a 1-0 MMA novice, before losing in his debut to Frank Mir. His fortunes would quickly swing in the other direction when he defeated Heath Herring and then Randy Couture in his next bout to become the UFC world champion in just his fourth career bout.
"I was so mad at myself," Lesnar told Pat McAfee of his initial loss to Mir which would be viciously avenged some time later at UFC 100, via MMA Fighting. "It just built another thing that the people ram down your throat and say you can't do something. Love those people. Love them. I get goosebumps for that.
"I had a one-fight deal [with the UFC], and I was like, 'Please give me another shot at this.' Boom, then it took off. I fought Heath Herring and then I got Randy Couture and won the belt."
The subject of fighter pay has been a prominent issue in the UFC lately but Lesnar says that he has no problems with Dana White, even if he feels he should have been paid better.
"Dana's all right," Lesnar said of his former boss. "I've got a lot of money from him. I probably should have got paid more, maybe."
Lesnar is one of the few to have worked under both White and Vince McMahon and says that despite both men having significant promotional nous, they are different to one another.
"I really can't compare the two guys," Lesnar said. "Honestly, my relationship with Vince is so different than it is with Dana over the years. Vince and I have had a love-hate relationship for the last 20 years, but it's been good. We have a lot of water under the bridge. I have a lot of respect for both.
"But dealing with Dana, it's just a totally different business approach. I met Vince when I was younger. I look at Vince more as a father figure actually. Because I've learned a lot of things from him, and I was able to carry those things over and handle business with Dana. Vince is a self-made person, so is Dana. Took the company and made it public."
Nowadays, Lesnar says that he doesn't follow the sport quite so closely — a symptom, he says, of the UFC's success.
"I don't watch a lot of fighting anymore just because there's so many guys," he explained. "It's hard to follow. I wish Dana could figure out how to book things different, and come on and let's start getting behind some of these guys, and maybe protect somebody for a while so they can become a household name. You can cha-ching them.
"But he's in the business of putting on super fights every week, and it's tough to do and it's tough to stay on top."
Comments
comments