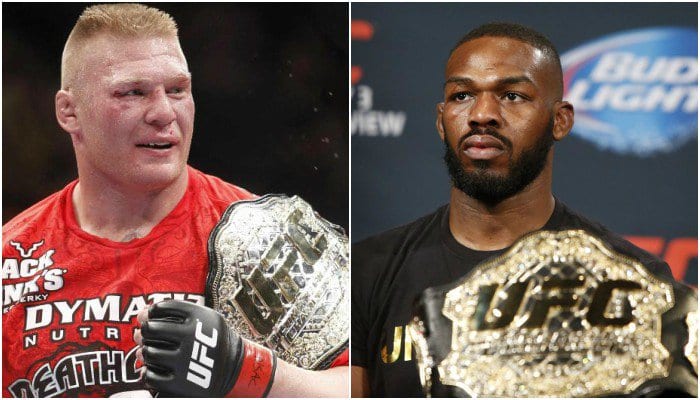 Every so often, the prospect of a Brock Lesnar return to the UFC is raised whenever Lesnar' contract with WWE is running down — but with the former UFC heavyweight champion now reported to be a free agent, Jon Jones has signalled his interest in rekindling their rivalry. 
It was reported on Monday that Lesnar, 43,  is no longer tied to the WWE having last competed for the company in March's flagship Wrestlemania event, with the WWE having already removed Lesnar's merchandise from their online store. Should he be available, it is likely that he will have several suitors with upstart professional wrestling league AEW almost certainly interested, but should he opt to make a comeback to the UFC there is (at least) one man who would be interested.
Former light heavyweight champion Jon Jones, who recently announced his move to the heavyweight fold, was linked to a fight with Lesnar on several past occasions and reiterated his desire on Twitter late Monday night.
Brock I'll beatcho ass too

— BONY (@JonnyBones) August 31, 2020
UFC President Dana White has said that he considers Lesnar retired from mixed martial arts having fought just once since 2012, a 2016 win against Mark Hunt which was subsequently turned over after Lesnar failed a post-fight drug test.
White, though, is a promoter and if there is money to be made with Lesnar you can be sure that he will explore the opportunity — the question is; is Brock Lesnar interested?
Comments
comments